Finastra TV
Explore the transformative trends shaping the world of finance

Season 2 streaming now
Banking as a Service: Outlook 2022
Banking as a Service: Outlook 2022 Study
With an estimated $7 trillion market opportunity, Banking as a Service (BaaS) cannot be ignored.
BaaS has moved to the top of the strategy agenda for executives across industries. It is expected to grow at more than 25% per year for the next 3-5 years. Players across the BaaS value chain are seeking to monetize the opportunity and deciding on the role they want to play.
Finastra has undertaken the world's largest survey on the topic, with ~1,600 industry participants.
85% of senior executives are already implementing BaaS solutions, or plan to do so within 12-18 months
SME lending and corporate treasury/FX services are poised to gain the highest traction
In this study, we assess the value pools, maturity and monetization strategies of distributors, providers and enablers, and share insight on what needs to be done to enjoy the rewards of the BaaS revolution.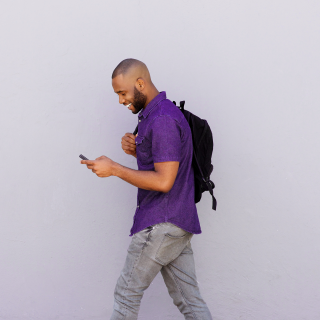 Infographic
Data highlights from the report are visualized in this infographic.
We look at: the players, potential, priorities, pitfalls and pioneers of Banking as a Service.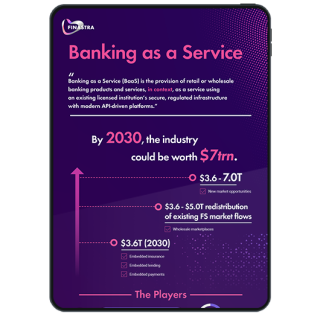 Geographic exec summaries
Slicing and dicing the report data, we have compiled geographic executive summaries for: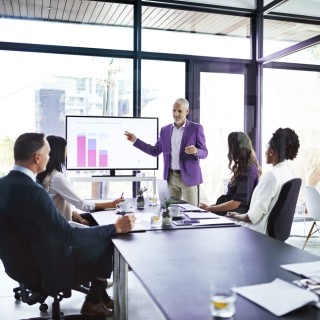 We understand the complexity of balancing BaaS with your everyday priorities, and how to make it work for you.
Focus on the outcome
Banking as a Service (BaaS) is the enabler of contextual finance and presents a huge opportunity (and threat) to all participants. Monetizing BaaS is a lot harder than embedding it.
Understand the ecosystem
Knowing the players and their ambitions is key to unlocking the value of contextual finance beyond just the redistribution of financial products, to the creation of new retail and wholesale marketplaces.
Avoid the pitfalls
Common reasons embedded finance programs fail include over-strategizing, prioritizing embedding over consumption, or pursuing use cases where others control the point of context – and revenue share.
Secure your best position
Winning in BaaS requires a focus on discrete, profitable and differentiating use cases that align to your strategy, play to your differentiators, and know where you have the greatest influence over positioning and pricing.
Go from idea to investment case
A programmatic approach will take you from use case discovery and prioritization to MVP and a business investment case in six weeks.
Take the first step
8 out of 10 banking executives see BaaS as a route to growth, speed-to-market and operational improvements. Find your place and commercialize it quickly with our accelerators and partnerships.
Harness the embedded finance opportunity
Harnessing the value of contextual finance
Understand the roles and drivers across the embedded finance ecosystem, uncover new retail and wholesale use cases, and discover where to play to win, with our new point of view document.
Where will you play?
Owning the customer context gives embedded finance participants the greatest influence on product positioning and revenue share, and moving quickly will bring first-mover advantages.
The potential to create entirely new retail and wholesale offerings as a service is vast, restricted only by imagination and the ability to move fast.
SME Lending as a Service
SME lending generates over $250 bn in market revenue annually. Much of that revenue will shift to embedded finance, with revenues growing by 30% annually.
Finastra offers a many-to-many gateway SMB lending solution for distributors and providers.
POS Financing as a Service
Retail consumers are seeking embedded finance solutions at POS, beyond Buy Now Pay Later (BNPL).
Finastra offers a many-to-many gateway POS lending solution for distributors and providers.
Alternative Payment Rails as a Service
Corporate customers are demanding faster and cheaper cross-border payments and FX.
Finastra offers a real-time cross-border payments and messaging platform.
Cash Management as a Service
Banks are seeking near real-time funding visibility and receivables services.
Finastra offers a common, global platform to connect host and agent banks to corporate and SME customers looking to access payments, FX, liquidity and more.
Meet the experts
Banking as a Service, embedded finance, contextual finance. We hear these terms and read market headlines on a daily basis. But what do they mean?
In collaboration with Sibos, this 'Meet the Experts' session hosts HSBC, Visa, SAP and Finastra; it covers:
What is embedded finance and why is it important?
Who are the key players and how will they monetize the reported $7 trillion market opportunity?
And most importantly, how are they planning to deliver tangible benefits, at pace?