Cristina, Chief of Staff for TCM, talks about life at Finastra in Bucharest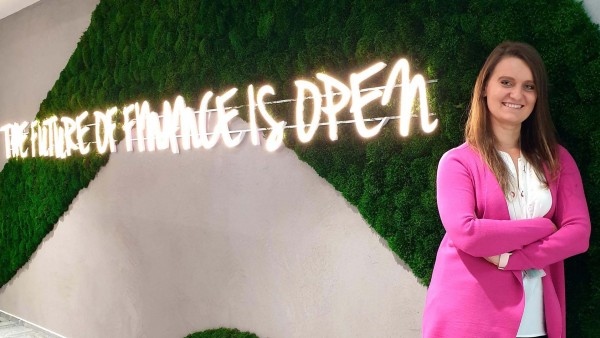 I started my career at Finastra straight out of university as an Associate Quality Engineer in 2007, and had some fantastic opportunities along the way to get me to my current role. I didn't expect to stay here this long having studied finance and capital markets at university, but 12 years later the work continues to be fun, and I feel as engaged and excited as I did when I first joined.
As Chief of Staff for TCM (Treasury and Capital Markets) in Bucharest, my role is often quite reactive and spontaneous, which is very different from working in my previous technology roles. I cover topics from coordinating TCM budgets and partners, working with teams around reporting and communication strategies, and look after our employee engagement and attrition. But my favorite part of the role remains the human and social side - I love connecting teams and mentoring. I'm very approachable and always happy to help and give advice to those who need it.
Some of my proudest moments are what my colleagues have achieved. I've built a wonderful network at Finastra, and am so happy when my team, or mentees, progress and perform well. This gives me a positive outlook for the future of Finastra and makes me feel that the company is moving in the right direction; the working environment is developing as there is a shift in the way people approach their work. It's a very exciting journey to be on!
The biggest challenge for me in this role, as a deeply technical person at heart, is keeping up with new technology changes and innovation Finastra is onboarding daily. But this is also a positive as it's a sign that we're driving towards our mission of becoming the #1 open platform, and our employees can really experience working in a cutting-edge tech business.
As a woman in tech, people often ask how difficult it is, and what challenges I faced. Whilst at one point, I was the only female development manager in my group, it did also have its advantages, I never had to introduce myself, as people knew who I was – even on calls! We promote an environment where there is no barrier to women, and the workforce here in Bucharest has about a 50/50 gender split, so this is living proof we stick to our mission.
The Bucharest office is a dynamic place to work, but I think one of the biggest misconceptions is that Finastra is a company just for kick-starting your career. We get great feedback from new joiners about the training and atmosphere in the office, but there is also great opportunity for career progression, which I have experienced myself. I would say you have to try it to understand – it's an interactive company, so you need to be open to change and collaboration, and we'll help you and teach you how to manage this.
There are so many opportunities at Finastra and in particularly Bucharest, you must give it a go. The atmosphere is very energetic. It is a fun place to be, but is still professional, it's an environment where you look forward to coming in and working with your colleagues. People in the office are good at what they do, you get to step out of your comfort zone and explore, so you soon realize there are so many options to take and connections to make. It's a big Finastra world out there!
Learn more about careers at Finastra here.