Diversity and inclusion fuels innovation – key to business growth!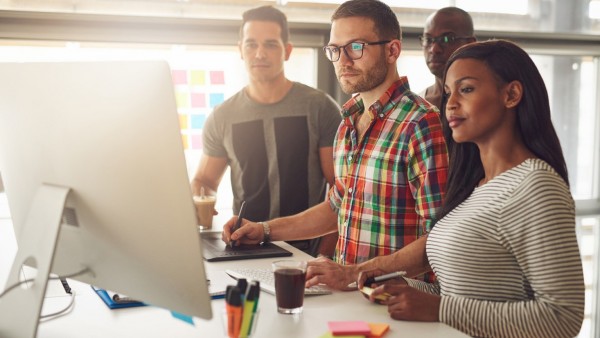 Companies with the greatest gender diversity can generate 34% of their revenues from innovative products and services; with more diverse leadership teams, companies earn more from innovation, with higher EBIT margins. The Finastra team has seen a packed schedule of events in Singapore in the last few weeks, with a gathering of cultures and leadership from across the world. Across three events, we discussed innovation, diversity and inclusion (D&I), and how together these elements can drive our business to the next level. 
Women and STEM: the way forward
On 12 September, Finastra was at the Women's Forum for the Economy & Society which gathered 300 executives and next-generation women leaders in finance for stimulating discussions around leadership, empowerment, and inspiration. The panel I sat on, Designing a better world: Women and STEM, explored the challenges facing women in technology today and how to tackle them. The key takeaways were:
 D&I is critical to achieving the best results for the company; Yolanda Conyers, Chief Diversity Officer and President, Lenovo Foundation, said, "Lenovo services customers in 120 countries, so it is imperative to have a workforce that is reflective of the customer base." She added that the company's journey requires greater D&I: "Intelligent transformation demands inclusive transformation."
Instilling a diverse and inclusive culture is a leadership responsibility; at Finastra we believe tone comes from the top and have policies in place to create these types of teams.
A learning mindset is important: continuous development and upskilling is critical to prepare high-potential women for management roles. At Finastra our mentoring and coaching programs are designed to equip high-potential individuals for future leadership; we also support in-school coding programs through Code.org activities to help shape future generations.
The challenge of overcoming unconscious bias which can get in the way of individuals' contributions. How can organizations educate the workforce and drive programs to address such biases?
Redefining financial services in APAC: The Milken Institute
Recently, our CEO Simon Paris spoke at the Milken Institute's Asia Summit 2018, an invitation-only event for leaders in business, government, technology, philanthropy, academia, and the media. The panel, 'Breaking the Bank: How Asian Fintechs are Redefining Financial Services', discussed the impact of Fintechs on the industry in Asia. Simon emphasized the need to build a diverse culture to drive innovation.
Collaboration is the new innovation: organizations that are more inclusive create safer spaces for innovation.
 Bringing together diverse teams draws on a variety of cultures and their insights – and also reflects the make-up of our client markets.
Customer experience (CX) will be the core differentiator between banks and banking services: by leveraging diverse inputs to better understand customers' values, we can innovate successfully in this space.
Launch of The Finastra 12 PM Talk Show
The inaugural episode of The Finastra 12pm Talk Show was held on 17 September: the first of a new series of talks to garner insights from industry leaders, influencers and subject matter experts, covering a variety of topics including Innovation, Open Banking and the API Economy. We set the tone for the series by launching with the important topic of D&I.
The Talk Show guests included Finastra leaders: Simon Paris, CEO; Akber Jaffer, Chief Strategy Officer and Chief of Staff; Ryan Keough, EVP, International; as well as a distinguished guest, Kate Barker, MD at PWC, a futurist and transformation leader.
We discussed research that shows higher D&I in the workplace directly correlates to a higher return on equity, more collaboration, more innovation and a very engaged workforce. D&I will make us a better company, looking like the market we serve and performing better as a result. The panel agreed that having diversity of thought is really what brings innovation – without diversity, particularly with Fintech which is moving very fast, we can't execute unless we're leveraging a diverse population.
Leadership is key to building an inclusive culture: senior leaders' mindsets prevail across the organization. Leaders who give diverse voices equal airtime are nearly twice as likely to unleash value-driving insights, and employees in a 'speak up' culture are 3.5 times as likely to contribute their full innovative potential.
We also heard that people's personal values are what we really have in common. This includes the willingness to learn – and to give back through mentoring and sponsoring colleagues. The panel addressed the need to challenge unconscious bias and gender profiling through fresh ideas like introducing 'blind' interviewing for new candidates and the importance of building a pool of mid-level talent to draw on for leadership roles. 
With this lively session, we came to the end of an intensive and fruitful period of dialogue both within Finastra and with external stakeholders. You can see the video here. The Episode 2 of The Finastra 12 PM Talk Show on Open Banking & the API Economy is available here.
From the discussions in these three different forums, it's clear that what drives growth in our business is innovation – and what drives innovation is a diverse, inclusive culture where co-operation can thrive. This means teams that can draw on many different viewpoints and where leaders encourage questioning and dialogue. Enabling our colleagues to work together without fear or favor is the best way we can further a dynamic, growing company.