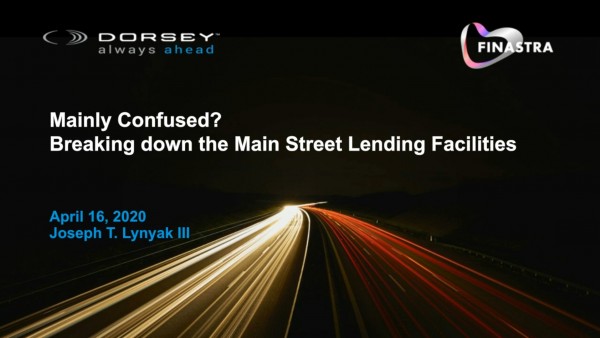 Are you mainly confused about the Federal Reserve Board's recent Main Street facilities announcements? You're not alone!
As a legal partner of Finastra, Joe Lynyak, Partner at The Dorsey Practice, breaks down the two new Mid-Sized Business (MSB) credit facilities and discusses the impact to Finastra's clients.
Our webinar, Mainly Confused? Breaking down the Main Street Lending Facilities will cover:
Important terms and conditions of the Main Street facilities programs
Limitations and concerns of the programs
Comments regarding what is still unexplained about the Main Street Programs
Finastra is eager to share the expertise of Dorsey, one of our network attorneys that help us interpret and implement the laws of their respective states and jurisdictions for financial institutions doing business there. Finastra Network of State and Federal Counsel is comprised of attorneys from all 50 states, Washington D.C., the Commonwealth of the Northern Mariana Islands, Guam and Puerto Rico.
THE DORSEY PRACTICE
Dorsey's Bank Industry Group serves U.S. banking and financial institutions of all sizes, as well as foreign banks and financial institutions. Global representation extends to multiple large Chinese banks, Latin American banks, European banks and other international financial institutions. Learn more about Dorsey's Banking & Financial Institutions Industry Practice on Dorsey.com.
---
You might also be interested in