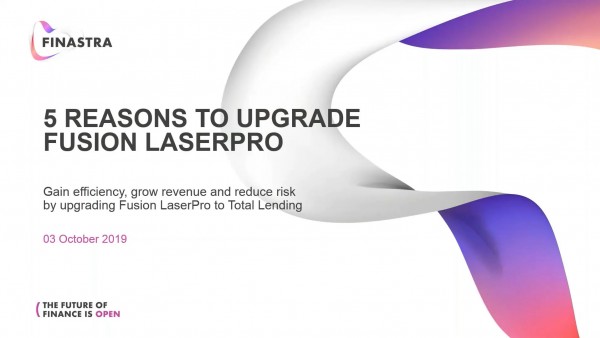 Gain efficiency, grow revenue and reduce risk by upgrading Fusion LaserPro to Total Lending.
Our clients have reported a 50% improvement in productivity and customer service and 87% reduction in error rates. Fill out the form to view this webinar and learn how you can create an end-to-end lending experience by adding several benefits available with Total Lending, including:
Gaining operational transparency with core connectivity and financial analysis capabilities
Improving process efficiency through automated controls
Enhancing the borrower experience with eSignature integration
Aggregating loan data from multiple sources for single export
You'll hear from Finastra experts who will demonstrate Custom Document Management, eSignature solutions and Fusion Compliance Reporter.  You'll also hear from a special guest from Capital City Bank and their experience with Finastra's end-to-end commercial and consumer lending solutions.
---
You might also be interested in