Corporate banking and treasury business models need to collaborate to integrate and innovate, to optimize their journey on their roadmap towards the future.
Priorities and service expectations of banks are changing
Today's corporate treasuries are adopting an increasingly strategic role – a transformation that reflects profound changes across the organizational, technological and strategic ecosystem. They are now, more than ever, seeking new services from their banking partners, prompting banks to respond with open banking-based strategies and services – or face losing relevance to corporates' needs.
Our latest white paper explores what banks need to consider today to ensure they stay relevant in the future, with insight to the competitive landscape and roadmaps that help to align their business goals to their clients' needs.
Are priorities between banks and corporate treasurers aligned?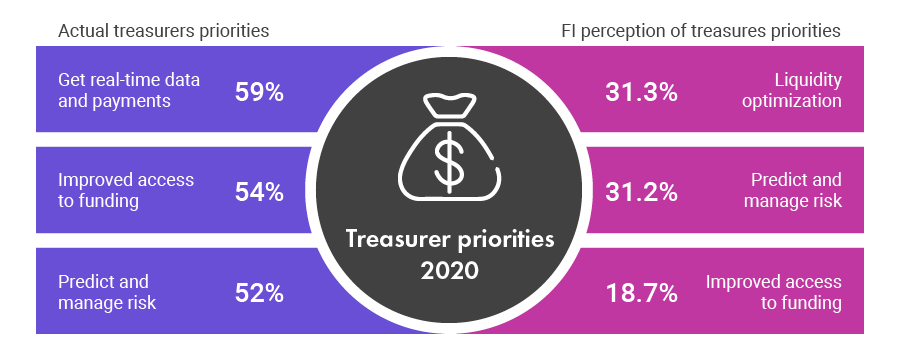 Looking beyond 2020 to future-proof for tomorrow
With corporate treasurers transforming into strategic agents within the ecosystem - their needs for new services are growing. Together with Accenture, we explore the latest developments within the landscape of corporate banking; including the competitor market structure, roadmaps, their benefits and some best practices in API use cases in the industry.
Our white paper reviews the strategic options available today, to optimize your future journey.
How can Finastra support your future roadmap?
With the future of corporate banking on the brink of the next new Open Banking frontier, our infographic provides a high level position of how corporate banks can align their future strategy to meet the requirements addressed in the three roadmaps proposed.
Solution specialist outlook for 2020 and beyond
Treasury Ecosystems – Opening today for tomorrow
The IDC Global Corporate Treasury Survey 2019, in partnership with Finastra, uncovers the current and future state of treasury ecosystems, proposing various roadmaps for banks to stay ahead of the curve.
Are you evolving today for the digital corporate treasury ecosystems of tomorrow?
Corporate Banking APIs – Open for business
 
In partnership with Accenture, across two industry surveys, spanning over 1,000 treasurers, located across several continents, the findings explore APIs in the corporate banking context, what business models are available and what corporate banks should do next.
Are you ready to deliver the next generation standard of customer service?