Laura, Global Sales Training Specialist, talks about her role at Finastra, and the importance of diversity and inclusion in the workplace for Pride month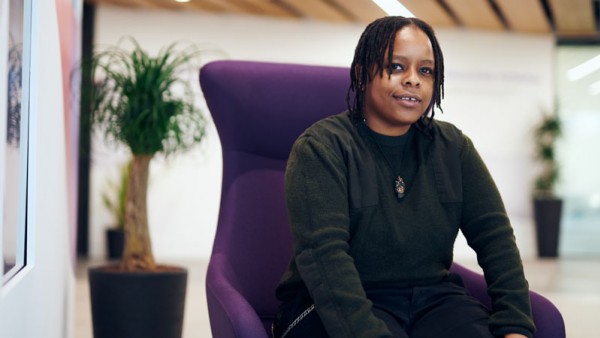 I joined Finastra in 2015 as a BDR in Dubai. In 2017, I relocated to London as part of a promotion to a Team Lead role and in 2018, I was promoted into the Sales Academy/BDR Manager role for Europe where I led the team through two record breaking financial years. At the end of 2019, I was given the opportunity to follow my passion for Developing Talent and I joined the Sales Training Team as a Global Sales Training Specialist.
My role as a Sales Academy Manager involved hiring and onboarding fresh graduates whom I would coach and develop into qualified talent for the Digital Sales Team and other roles in the company. It is so rewarding to see these individuals grow in the business – 3 of them even made it to Diamond Club this year! In my current role, I am now tasked with helping our Sales Teams succeed by equipping them with trainings and learning material. Every single role I have had at Finastra has made me feel like an integral part of the bigger picture, with clear KPIs set for me which are aligned with the Business' objectives and goals.
My biggest challenge in the professional world, prior to joining Finastra has been fighting the stereotypes. Being a Black, Lesbian Woman with Dreadlocks can sometimes be tough when you are in a society which still has a lot of work to do to stop discrimination and inequality. However, at Finastra, we are encouraged to be ourselves and accept our colleagues just as they are. Our theme for Pride this year is 'We All Belong' and last year the company ran a global initiative called 'Be Yourself'.
It's important for companies to create safe spaces which allow employees to bring their whole selves to work. In fact, studies have shown that 50% of LGBTQ people stay in the closet at work for the fear of being stereotyped, bullied or losing career opportunities. Imagine the psychological impact of not being able to be yourself at work 8+ Hours a day, 5 days a week? - I've been there before. Which is why I am grateful Finastra has put in place LGBTQ Employee Resource Groups to support LGBTQ employees and give us a sense of belonging and doing so, the company maximises the potential and productivity of LGBTQ employees.
Finastra Is on a mission to unlock the potential of people and businesses by creating the #1 Open Platform for innovation in the world of financial services. For me, the Open culture of this company has unlocked my true authentic self at work and made me realise my potential is endless. My race, sexuality and other personal characteristics are not a barrier for my success at Finastra. This is a place where 'We all Belong'. Happy Pride Month!