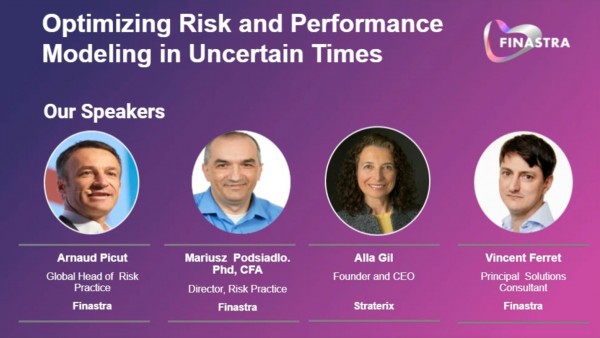 Are You Ready for the Unknown?
The events of recent months have shown the limitations of traditional forecasting approaches: ALM models are compromised; financial planning struggles to correct baseline projections; risk officers are under continued pressure to adjust risk appetite calculations.
How can banks minimize risk and optimize performance when normal stress testing models don't work?
Watch our webcast to hear experts from Straterix and Finastra as they discuss ways to improve your modeling and practical ways to solve the challenges facing balance sheet and risk management.
Topics for discussion include:
What your ALM process might be missing
How to assess credit risk and its impact on balance sheet profitability and capital allocation
Utilizing AI/Machine learning to model and predict accurately
Subsequent actions that can be taken to optimize the balance sheet
How to reduce impacts on level of provision by taking mitigation actions
Use cases showing how Fusion Optimum used data driven decision making to solve client challenges and produce results
---
You might also be interested in