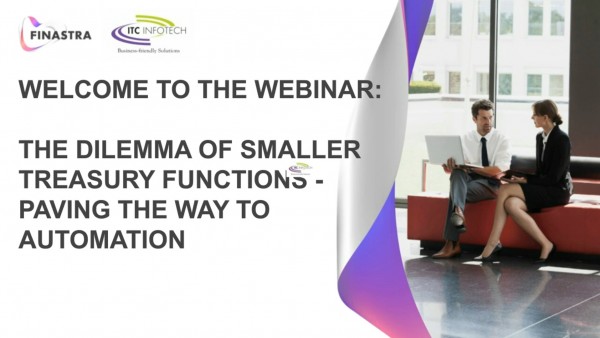 In the past, many smaller treasury functions have not been able to benefit from the automation, standardization and improved efficiency which specialist treasury focused technology solutions bring. There are many reasons for this: implementation and system running costs, inability to justify expense versus benefit, long and high-risk projects – just to name a few.
In this webinar, treasury experts will debate the industry events and competitive considerations that will affect smaller treasury functions in the future, discuss viable cost-effective options and outline the various ways to start treasury automation, while minimizing risk.
You will learn how:
An 80% coverage of core products and transaction volumes can help towards compliance and free up essential time to grow the business
You can still benefit from a tried and tested treasury solution that offers front-to-back automated processing at low cost
This can be achieved in 10 – 12 weeks with low risk
Speakers:
Iain Albert Marshall Scott, Capital Markets and Treasury Solution Lead, Finastra
Iain has over 30 years of experience working in Senior Operations and COO roles within Tier 1 US Investment and Custodian Banks. In the past five years, he has pivoted focus to Fintechs within product management, business development and independent consultancy. Iain has expertise in post trade infrastructure with a slant towards regulations as well as the new balance sheet and treasury rules implemented post the 2009 market disruption. Within Finastra, Iain is focused on the Treasury and Capital Market's post trade solutions and is part of the Solution Lead Team. Iain is also responsible for new developments to drive more strategic market initiatives such as the LIBOR replacement.
Sunder Ganesh, Vice President and Client Partner - BFSI, ITC Infotech
Sunder heads the Finastra Partnership for ITC Infotech globally and is a Client Partner for some of ITC Infotech's marquee banking and financial services customers. With over 23 years' experience, he has deep knowledge of the banking and financial services industry. Prior to his current role, he had set up and ran the Treasury and Capital Markets Line of Business for ITC Infotech, delivering over 100 client engagements for 50+ banks and financial institutions globally."
---
You might also be interested in