FusionFabric.cloud chat with Rachel Batish from Conversation.one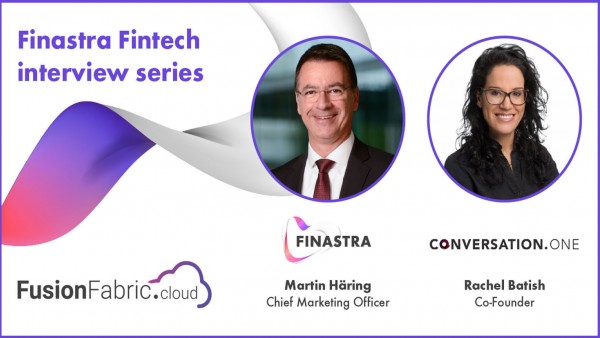 I'd like to welcome Rachel Batish, CRO and Co-Founder at Conversation.one.
Martin (M): Welcome Rachel, great to speak to you. First of all, tell me a bit about Conversation.one and what attracted you to work with Finastra and FusionFabric.cloud.
Rachel (R): Thank you, Martin. Conversation.one provides a unique and leading solution for voice banking and chat. Over the last year and a half we developed a comprehensive, yet simple-to-use platform for financial institutions, which we started selling to banks and credit unions at the end of last year.
Finastra's FusionFabric.cloud platform gives us access to more than 9,000 financial institutions across Europe and the US. Our goal over the next two years is to deliver our app to close to 30% of Finastra's clients, so they become Conversation.one customers as well.
M: That's a fantastic target! How will FusionFabric.cloud help deliver this?
R: Having access to Finastra's technology and APIs not only opens us up to a large number of potential clients, but also helps us enhance and extend our platform's capabilities. Offering our solution on top of the dozens of applications provided by Finastra brings additional value to our platform and to our clients.
In addition, Finastra's support in recognizing us as an innovative fintech company in voice and chat services further strengthens our credibility in this market.
M: So one of the crucial things for you is taking your software to a wider audience?
R: Yes. To grow a successful company, you need great technology but also the ability to execute and sell it. While we are currently expanding and growing fast, having access to such a wide audience will further boost our company's growth. Working with Finastra will help us deliver on our plans to make Conversation.one the leading voice and chat technology company for financial services firms.
M: Can you describe your software and the apps you'll make available through the FusionFabric.cloud platform?
R: Conversation.one is a build-once-deploy-everywhere platform for conversational applications. The platform leverages deep learning (DL) to constantly improve conversational understanding and builds enriched, fluent and natural correspondence with any device, while maximizing the user's communication. The platform connects the bank's single business logic to all conversational devices and interfaces in a single process. This is performed in minutes. With Conversation.one banks and credit unions can build their Amazon Alexa skills, Google Home actions, their chat and voice bots, as well as their texting and phone assistants.
Conversation.one offers an intuitive, visual and user-friendly dashboard, and does not require coding or programming skills. Through FusionFabric.cloud we can offer all Finastra's clients a simple way to build their conversational applications, in minutes. Logging into our platform, every Finastra client can select its name from our-pre-integrated list and immediately connect its APIs. They can then opt for the devices they'd like to support, selecting all or some, and that's it. Their conversational app will be ready for testing, with dozens of pre-made conversational flows, including balance and transaction information, through to transferring money and making payments. Our platform also offers a user-friendly interface for further customizations and tweaks.
The Conversation.one platform employs strict security protocols, allowing financial institutions to implement and enforce their individual security standards for different conversational channels. The platform provides an SSO module and a two-factor authentication module. Together these features bridge the gap created by conversational services.
 M: Wow, that sounds really exciting – and very easy for Finastra clients to get on board! Can I ask a little more about your experience in using the platform?
R: In order to be first to market, we wanted to be part of Finastra's early adopter Programme, which meant joining at an early stage while the product was still in development. As one of the first Fintechs to integrate with FusionFabric.cloud, we encountered some challenges that other fintechs won't experience in the future. The purpose of the early adopter programme is to surface and fix these challenges. Hopefully we have helped smooth the way for others to follow.
M: That's great to hear Rachel. Thank you for taking time to share your experience. We look forward to working with you further and helping you deliver on your vision!
To find out more about what we're doing, you can visit our website here. I also welcome any questions you may have on the FusionFabric.cloud platform.