FusionFabric.cloud chat with Amjad Zoghbi of XPansion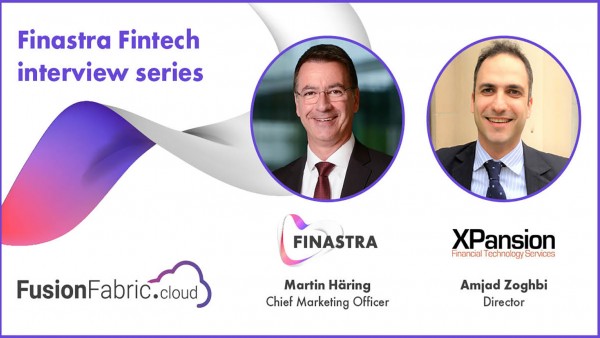 I'd like to welcome Amjad Zoghbi, Director at XPansion Financial Technology Services. This is a particularly special welcome, as XPansion were the winners of Finastra's recent Hackathon in Paris for "best use of emerging technology".
Martin (M): Welcome Amjad, congratulations on the recent win in Paris! Can you start off by telling me a little bit about XPansion Financial Technology Services and the products and services you provide?
Amjad (A): Thanks Martin, pleasure to be here. We are very honored to have received the award in Paris. XPansion is a technology company that develops XMon, a market data usage analytics platform. XMon helps customers monitor their usage of market data and helps them control data costs and ensure usage compliance. It is a cloud based solution which is simple to integrate and use. It provides powerful intraday insights into how market data is being consumed and for what business purpose. Based on learned data usage patterns, XMon can also suggest cost saving opportunities and provide forecast spending to reflect potential changes in commercial models.
M: So, what in particular attracted you to work with Finastra and use FusionFabric.cloud?
A: We have a very good and long-standing relationship with Finastra. Being a truly global platform, FusionFabric.cloud is a way for us to extend the reach of XMon to customers that are otherwise difficult to access for a company of our size. FusionFabric.cloud brings our technology closer to the broad base of Finastra's customers.
An integrated platform will also allow us to provide a seamless link to Finastra's products and tighter integration with other partners of FusionFabric.cloud. This collaborative and open environment will allow us to benefit from the synergy between different systems and increase the value we can deliver to our mutual clients.
M: How quickly have you been able to start prototyping and developing your applications?
A: Using the APIs of both FusionFabric.cloud and XMon, we were able to build a working concept that would deliver customer benefits in just a matter of days. Using the pre-existing graphical component of FusionFabric.cloud definitely helped to accelerate the integration of our solution.
Being part of the early adopter program means that we have first-hand access to the platform. This has allowed us to share feedback with the Finastra team early on and while the product is maturing. Our plan is to continue enhancing and extending this integration to add functionality to XMon as FusionFabric.cloud's range and coverage of APIs increases.
During the Paris hackathon, we pushed the integration further and built an interesting use case based on bringing market data costs directly to the front office to help with investment decisions, all through a seamless integration and FusionFabric.cloud dashboards. The judging panel validated our business case and we were very pleased to receive the award!
M: That's very interesting. How have you found the overall experience? Are there already some benefits your development team is seeing?
A: Our team has had a great experience working with Finastra on FusionFabric.cloud. Building an XMon app in FusionFabric.cloud allows our development teams to build a tight integration with Finastra's products once and then reuse the code as many times as required. This standardization greatly increases efficiency and reduces support.
M: What applications will you make available through the platform?
A: We plan to make the XMon app available through the FusionFabric.cloud platform. This will enable FusionFabric.cloud's customers to easily and quickly gain market data cost information seamlessly through the platform, optimize their data consumption against actual needs and provide them with the input they need to help make informed decisions by forecasting market data cost on their future investment strategies.
M: I understand your application will directly integrate with FusionInvest – what benefits will end users gain from using your app?
A: By integrating the XMon engine with FusionInvest, end users will be able to understand the cost component of the data they use in decisions they make. Data fuels decision making, but data has a cost and, in many cases, users are unaware of the underlying expense related to that data. By providing transparency over these costs to the front office, FusionInvest users will be in a better position to increase the efficiency of their investments.
In addition to the above, XMon will ensure that end users are compliant with regard to the data they are accessing and able to use. By providing real-time data permissioning through XMon, end users can rest assured that their data usage complies with regulatory and contractual considerations.
 M: That's a really exciting prospect. Do you plan to add other apps to the platform in the future?
A: Yes! In fact we have already started drafting a roadmap for integrating our business process monitoring app to FusionFabric.cloud following the blueprint model we have established with our data usage monitoring product. By integrating business process monitoring capabilities into FusionFabric.cloud, end users will be able to proactively monitor data analytics for automated business processes that require access to data.  
M: That's great! Lastly, how do you see FusionFabric.cloud supporting your growth plans over the next few years?
A: We're excited about the prospect of integrating with FusionFabric.cloud. We see it as an important growth channel and look forward to increasing our customer reach through Finastra's global footprint. We also look forward to reducing the on-boarding time even further by leveraging the simple app activation capabilities that FusionFabric.cloud provides.
M: Appreciate you taking the time to speak with me Amjad, it's really inspiring to hear how you are using the platform.
To find out more about FusionFabric.cloud, visit the website or Finastra.com/platform.