FRTB: The regulatory saga of our times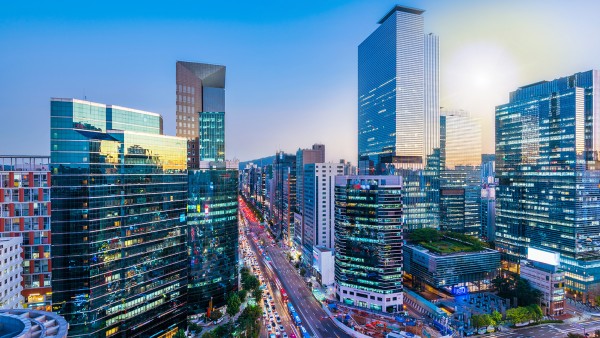 Many banks, both top tier and below, are affected by requirements to set aside capital for risk
Banks may opt for a standardized approach (FRTB-SA) or internal model approach (FRTB-IMA)
This blog highlights some of the benefits and challenges of each approach
---

Under the Basel regulations, banks are required to set aside capital for credit risk, counterparty credit risk, operational risk, credit valuation adjustment (CVA) risk, securitization framework and market risk.
For most banks, market risk makes up less than 5% of the total capital charge. The materiality of the market risk charge has diminished for many banks as the size of the trading book has shrunk, driven in part by the near disappearance of proprietary trading desks. However, investment banks and many Tier 1 and Tier 2 universal banks have large capital market operations, and these are the institutions that are most affected by changes to the market risk capital regime.
Despite being dwarfed by the other capital charges the process involved in bringing to life the post crisis response to failings in capitalising market risk has been fraught with delay, and the finalization of the reforms has the hallmarks of a Homerian odyssey.
The result is an overhaul of the current regulations that has the potential to significantly change the way some banks conduct business, and comes after much debate, impact assessment, consultation and political lobbying.

Click here to view larger
Banks response to the FRTB regulation varies considerably. Some larger institutions have spent years working on the new capital regime with large cross functional teams, while others, especially lower tier banks, have adopted a wait-and--see approach. For those observers who have been following the developments since the initial consultative paper on a Fundamental Review of the Trading Book (FRTB) was published by BCBS in October 2013, the finish line is finally coming into focus. Although banks will only begin allocating capital against the new standards from January 1, 2022, they face a considerable amount of preparatory work in the lead up to this date.
FRTB-SA vs. FRTB-IMA
In common with the current Basel regime, banks may opt for a standardized approach (FRTB-SA) or, subject to regulatory approval, an internal model approach (FRTB-IMA). In addition, there is a simplified alternative to the standardized approach for eligible banksi. The simplified approach is an extension of the current capital regime but with multiplication scalars, ranging from 120% for FX Risk to 350% for Equity Risk that has the effect of increasing the capital charge. In Europe, the EBA have endorsed the simplified approach for institutions with a trading book below €300M.
Much of the FRTB debate has centered on the IMA. There are several challenges facing banks that opt for the IMA approach. These include:
moving from capital reporting at bank level to reporting at desk level, including backtesting;
front-to-risk coherency enforced through P&L attribution tests. This can represent a huge challenge to banks that have had a different solution architecture in the front office and risk areas;
a traffic light regime for back-testing and P&L attribution has been put in place with green (acceptable), amber (inconclusive) and red (unacceptable results) zones. Banks within the amber zone are subjected to a capital surcharge, whereas banks within the red zone are forced to fall back on the standardised approach. This can lead to a capital charge cliff effect when switching between IMA and SA.sourcing and quality of data, particularly related to non-modellable risk factors, which carries a separate capitalization.
Furthermore FRTB-IMA banks face costs related to upgrading the technical risk and front office infrastructure due to the complexity and computational load of calculating FRTB-IMA.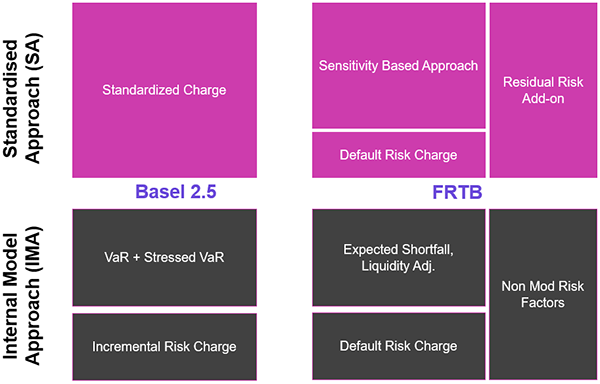 In the broader Basel IV context, the introduction of a regulatory floor, which is being phased in and will top out at 72.5% of the total capital requirement across all six capital charges, limits the capital savings that a bank can expect. These factors have led to number of banks who are currently using an internal model to look to switch to the standardised approach.
Nonetheless, every bank that chooses FRTB-IMA, will also be required to report regulatory capital calculated under the standardised approach to the regulator.
Standardized Approach
FRTB-SA is made up of three components:
Sensitivity Based Approach (SBA) which is a form of Parametric VaR with regulatory weights and correlations. One innovative aspect of SBA is the introduction of correlation regimes, a recognition that in times of market stress correlations break down.
Default Risk Charge (DRC) which capitalises jump to default risk.
Residual Risk Add On (RRAO) which capitalises risk outside the standardised approach taxonomy. This includes exotic payoffs, such as barrier options and exotic underlyings such as weather derivatives and volatility options.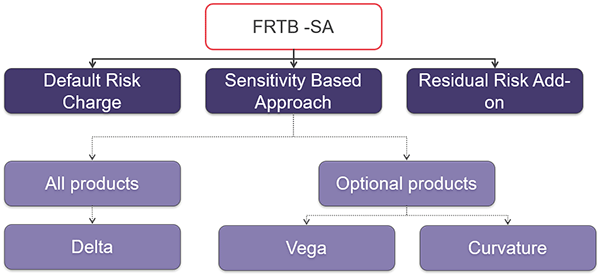 SBA is based on sensitivities calculated in the front office. Here again the computational load is worth considering. For example, a foreign denominated swaption requires up to 27 re-pricings in order to calculate the delta, vega and curvature sensitivities. For a FX Option the number of re-pricings can be a staggering 60.


FRTB Readiness
Based on the 2019 revised final standards published by BCBS, national regulators will adapt FRTB to the local reporting standards. Within the European Union the amendment to the Capital Requirements Regulation (CRR 2) is expected to adopted by the European Commission by December 2019. Following this, all financial institutions with a trading book are expected to begin reporting FRTB capital from the end of 2020 and where applicable, FRTB-IMA from the end of 2022.
While BCBS estimates the potential impact of the new capital standard to be a 22% increase in capital, individual banks will be conducting quantitative impact studies (QIS) to ascertain how that translates to their own business.
We expect most banks below Tier 2 and even some Tier 2 banks to adopt the standardised approach. Although the January 2019 amendments to the standard have made FRTB-IMA more attractive, the complexity of implementing IMA together with the regulatory floor means the bulk of financial institutions will take the standardised route.
FRTB: Our new report
For more details about how FRTB will affect the roles and responsibilities of heads of trading desks, including guidance on the changes and how management can address the new challenges, see our new report, "Changing Roles of the Head Trader under FRTB".
How Finastra can help
Finastra is the leading provider of capital markets solutions with the largest global install base with its Fusion Treasury, Fusion Markets and Fusion Risk products. Finastra delivers out of the box FRTB-SA and works with banks to deliver a FRTB-IMA solution. Click here to learn more.
i Under regulatory approval banks that have are not global systemic institutions (G-SIB), that do not use an IMA approach for other desks and have a simple trading book, including an explicit exclusion for correlation trading, may choose the simplified alternative to SA. This definition leaves a wide scope for application but in reality, it is expected that all but the smallest banks will be mandated by the regulators to use the standardised approach.