Monitor, assess and manage risk effectively
In today's dynamic regulatory environment, compliance reporting is essential to creating comprehensive transparency of risk exposures. Modernized compliance departments need the ability to assess, monitor and control all associated risks.
Fusion Compliance Management eases this burden by providing the latest regulatory news and updates alongside of curated content for banks and credit unions. We bring together compliance information from the most important sources, including the CFPB, OCC, FDIC, and Federal Reserve to ensure you are confidently adhering to evolving requirements.

Mitigate and manage
regulatory and
compliance risk

Comply with
state and
federal guidelines

50 state network
of advising
attorneys
Enterprise Risk Management
Fusion Compliance Management is an integral part of any enterprise risk management strategy. It provides the risk transparency needed coupled with automated monitoring of regulatory changes. Assess and manage associated risks and prudent business changes required to adhere to evolving compliance requirements.
State Data Privacy Laws
As data privacy and regulatory mandates continue to evolve, community institutions need to stay up to date and compliant with state specific regulations. Finastra's compliance management system automatically captures, interprets and stores new regulatory requirements. Rely on our 50-state network of compliance attorneys who provide this expertise and regulatory updates.
Fusion Training Management
Equip your staff with the knowledge and training needed to carry out your institutions policies and procedures. Fusion Training Management allows your institution to assess your employee's comprehension and completion of training with testing and scoring. Keep your workforce abreast and aligned with evolving regulatory requirements.
---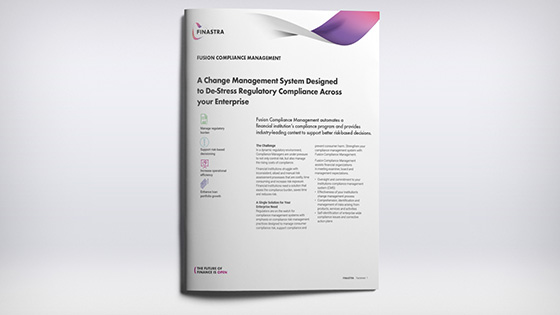 What questions can we answer for you?