Finastra and Hundsun ink strategic technology partnership to boost growing Chinese asset management industry
Fintech powerhouses to bring Finastra's investment management solution to China as market opens to global players
Singapore – June 8, 2020 - Finastra, a global financial technology firm headquartered in the UK, has today announced a strategic partnership with Hundsun Technologies (Hundsun) to co-develop and deliver a Chinese version of Finastra's investment management software, Fusion Invest. The new version of Fusion Invest will be tailored for China's regulatory and local requirements and be available to customers in Mainland China, Hong Kong, Taiwan and Macau.
Hundsun, a Chinese leading fintech company involved in all fields of financial markets, which owns more than 80% of the local investment management software market share, will license the new version of Fusion Invest directly to over 100 buyside institutions, with support from Finastra. This will enable asset managers to take advantage of global asset class coverage, highly automated workflows, consistent data, and accurate risk analytics - all in a single platform.
"China's regulators have taken numerous steps in recent years to open up the asset management industry to international participation. Combined with the country's rapid growth in personal wealth, it offers enormous potential," said Eric Duffaut, President & Global Head of Field and Marketing at Finastra. "By combining Hundsun's unrivalled reach and local knowledge with Finastra's software expertise, our partnership will enable asset managers to benefit from a solution that is internationally open but localized for China's unique regulatory and local requirements. It enables us to expand our technology even further into this important growing market."
According to BCG, China's Assets Under Management will see a compound annual growth rate (CAGR) of 11% to 15% between 2018 and 2025. This is compared to a more conservative global annual growth rate of 6%.
"The opening of the Chinese asset management market presents an exciting opportunity for asset managers in China and abroad," said Peng Zhenggang, Chairman at Hundsun. "With Finastra's global track record in investment management software, we are excited to work together to adapt Fusion Invest to meet the requirements of the Chinese market and revolutionize the technology available to local asset managers."
Robert F. Smith, Founder, Chairman and CEO at Vista Equity Partners (owners of Finastra) said, "This partnership will provide technology solutions to China's financial institutions - both large and small -opening up greater access to financial services and banking across mainland China and associated markets. We are thrilled to collaborate with Hundsun to expand Finastra's reach and bring the power of its solutions to Chinese enterprises serving their individual and corporate customers."
Fusion Invest already empowers hundreds of asset managers around the world, in over 35 countries, to easily diversify into more geographies and assets, helping them to improve risk-adjusted returns and create new strategies and solutions more easily. The scalable and unified platform has built-in automation and cloud deployment to drive greater efficiency and business agility, reducing operating costs and boosting profitability. Fusion Invest also enables asset managers to offer new digital capabilities to their own clients, such as on-the-go portfolio access from mobile devices to give investors real-time insight into portfolio performance.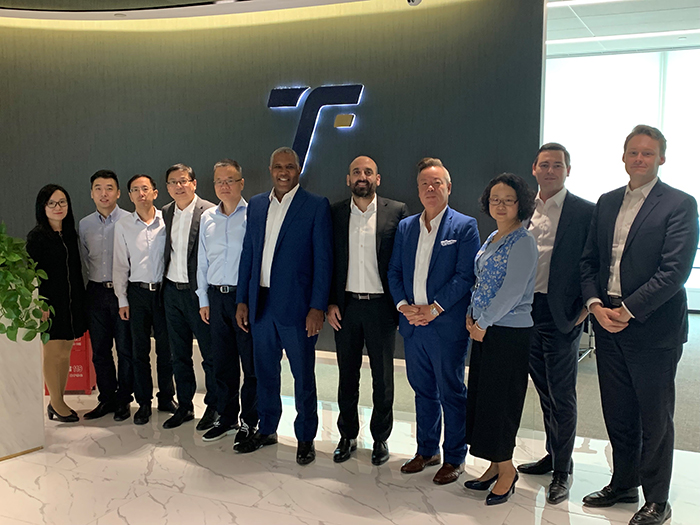 The Hundsun, Vista Equity Partners and Finastra team (taken in September 2019, prior to the Covid-19 outbreak)
Left to right:
1. Lin Lin, Investment Manager, Hundsun
2. Zhang Hui, Investment Director, Hundsun
3. Fang Xiaoming, Vice President, Hundsun
4. Jiang Jianfeng, Chief investment Officer, Hundsun
5. Peng Zhenggang, Chairman, Hundsun
6. Robert F. Smith, Founder, Chairman and CEO, Vista Equity Partners
7. Wissam Khoury, Senior Vice President and General Manager, APAC and MEA, Finastra
8. Clifford Chiu, Senior Advisor, Vista Equity Partners and External Board Member of Finastra
9. Rebecca Hu, Senior Vice President, Office of the CEO, Vista Equity Partners
10. Justin Hirsch, Senior Vice President, Strategy, Vista Equity Partners
11. Jacob Van Der Weil, Sr. Associate, Office of the CEO, Vista Equity Partners
For further information please contact:
Benjamin Jun Tai
Senior PR Lead, Asia
T: +65 9058 1160
E: benjamin.juntai@finastra.com
Caroline Duff
Global Head of PR
T: +44 (0)20 3320 5892
E: caroline.duff@finastra.com
www.finastra.com
About Finastra
Finastra is building an open platform that accelerates collaboration and innovation in financial services, creating better experiences for people, businesses and communities. Supported by the broadest and deepest portfolio of financial services software, Finastra delivers this vitally important technology to financial institutions of all sizes across the globe, including 90 of the world's top100 banks. Our open architecture approach brings together a number of partners and innovators. Together we are leading the way in which applications are written, deployed and consumed in financial services to evolve with the changing needs of customers.
Learn more at finastra.com.
About Hundsun
Hundsun Technologies, headquartered in Hangzhou, China, is a financial technology company with the mission of "Making Finance Easy". It was established in 1995 and listed on the main board of the Shanghai Stock Exchange (600570.SH) in 2003. Hundsun focuses on the financial industry and devotes itself to offering integrated solutions and services to more than 1,000 institutional clients of securities, futures, funds, trust, insurance, banking, exchange and private placement. As the full-field financial IT service provider in China, Hundsun has been selected in IDC FinTech's Global 100 for the 12th consecutive year, ranking 43rd in 2019.
Learn more at hundsun.com.