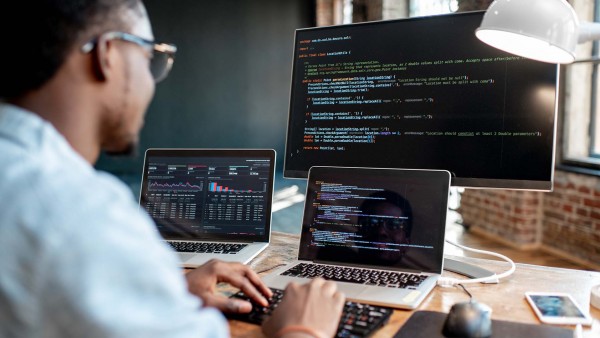 Are developers the saviours of the banking industry?
As innovation accelerates and new, more powerful technologies become available, the developer's role in banks and fintechs has become central to success. Attracting and retaining smart developers is now an important business imperative for any financial institution that wants to grow and satisfy its customer base.
It may be easier said than done. According to Gartner's Emerging Risks Monitor Report1  from earlier this year, the global skills shortage was acknowledged as large organisations' biggest business risk. At a macro level, it was seen to be more of a risk than accelerating privacy regulation and pace of change, rising from third position just three months earlier.
"Organizations face huge challenges from the pace of business change, accelerating privacy regulations and the digitalization of their industries," said Matt Shinkman, managing vice president and risk practice leader at Gartner. "A common denominator here is that addressing these top business challenges involves hiring new talent that is in incredibly short supply."
Banks are rapidly reshaping processes to keep pace with fintechs and GAFA companies building digital first operations, turning software developers into key assets. Traditional banks need to compete with those same companies for the best developers, especially in hard to fill roles.
A cultural challenge
Securing developers can prove to be a challenge culturally. Traditional banks don't always have the leading edge environments developers want to work in - and may still maintain back office systems built back in the 1960s.
According to Matt Lockyer, an independent consultant who works in the sector: "When teams or individuals are lifted from a start-up into a bank they need to have the right environment around them, freedom of technology choice, a flexible culture to experiment and at the most basic level trust. When you hire experienced, intelligent people you should trust them to get on with it. Only when the culture and environment is right have I seen this work well. Otherwise they just end up leaving to join a faster and more aspirational company."
Matt Frank, Lead Cloud Consultant at KPMG, agrees: "Banks need to behave and operate more like tech businesses to attract the right engineers, who will want to know what the organization really looks like. It can also be interesting to look at the ratio of engineering to non-engineering staff, which will be very high in a company like Google but lower elsewhere."
On the flipside it can be difficult for IT professionals from banks to migrate to smaller fintechs, which despite huge external investment will not have the same budgets and resources to build new technology.
Lockyer agrees: "Start-ups can offer a faster and more exciting environment. However, that comes with other drawbacks such as poor culture or a lack of funding, which in turn means less security. Large organizations are generally stable and pay more."
Finding solutions
So with both banks and fintechs facing their own challenges when seeking to attract developers, what measures can they take to improve their positions? One answer is to turn to the self-employed and freelance developer community and access so-called 'human clouds' of expertise, rather than struggle to own full-time developer bases.
The platform approach taken by an increasing number of banks, in which they collaborate with fintechs and other third parties to create value for customers, encourages the trend to access external developer resources, especially those working within innovative fintechs.
And driven by access to opportunities to learn and work with new technologies, developers also welcome a more collaborative, flexible way of working. According to research from online community Stack Overflow, 79% of developers already operate 'side hustles', coding systems outside work.
"Most contractors that I've worked with are always reading, learning and trying out new ideas," confirms Lockyer. "The ones that try new things and experiment outside of work have generally brought different perspectives and insights to various technologies. I think it's super important that all developers try something new every once in a while and try not to be afraid of change."
Plan for the future
As well as tapping into the creative developer community, banks can build in-house capabilities by running paid internship programmes or mass-retraining initiatives. In a rapidly changing sector that means looking ahead and developing strategies to build the flexible workforce that will be needed.
The World Economic Forum says that immediate action should be taken: "Business leaders need to look critically at the technical and 'human' skills needed to future-proof their workforce and move quickly to free up the resources needed to take the first steps towards building a culture of lifelong learning among their employees."2
Some of the tactics that organizations are already adopting include sponsored hackathons in partnership with universities, which enable them to identify young talent that they can nurture into the future; and giving people time to access the wide range of massive online open courses (MOOCs) that are now available.
There are huge benefits in building a future talent pool in-house rather than chasing the same experienced developers from employer to employer, not least the opportunity to mould young professionals to adopt a more collaborative approach to software development.
As Forrester writes in its Forrester Foresees the Future of IT3  report: "The success of firms is now in great part determined by their ability to exploit technology to its highest potential. This reality is bringing about a very different future for the IT organization where technology-driven innovation will be a core competency — and the boundaries between IT and the business will fade."
In Forrester's view, the trend for IT teams as a whole to contribute more significantly to business strategy will accelerate, with CIOs "moving from caretaker to disruptor and technocrat to business visionary".
Rise of the citizen developer
In a parallel wave of change, the growing power of technology means more non-tech professionals will be able to use quasi-developer and automation tools to build the systems, micro-services and applications that they can see customers want to use, and that will make internal teams more productive.
The rise of the platform approach, which must always be built on a robust set of security and interoperability standards, provides even more support for this trend. Microsoft CEO Satya Nadella recently called out4  the significant growth of 'citizen developers' during Microsoft's FY20 First Quarter Earnings Conference Call:
"Automating workflows across every function will be key to productivity gains for every organization. We are building Power Platform as the extensibility framework for both Microsoft 365 – inclusive of Microsoft Teams, as well as Dynamics 365. It brings together low-code, no-code app development, robotic process automation, and self-service analytics – enabling everyone in an organization to build an intelligent app or workflow where none exists. Power Platform already has more than 2.5 million monthly active citizen developers. PowerApps helps domain experts – those closest to the business problem – to design, build and publish custom apps fast."
So while there is undoubtably a shortage of developers today, we may be asking the wrong question if we simply continue considering how to attract and retain experienced professionals who are in ever shorter supply.
There are bridges banks can build to a future where different resources can be used, including teaching non-tech professionals how to code, working with academia to arrange paid internships and hackathons, fishing from the widest possible talent pools, and ensuring remuneration policies reward collaborative development across different teams in the bank.
 1https://www.gartner.com/en/newsroom/press-releases/2019-01-17-gartner-survey-shows-global-talent-shortage-is-now-the-top-emerging-risk-facing-organizations
 2https://www.weforum.org/agenda/2019/03/the-digital-skills-gap-is-widening-fast-heres-how-to-bridge-it/
 3https://go.forrester.com/press-newsroom/forrester-foresees-the-future-of-it/
 4https://view.officeapps.live.com/op/view.aspx?src=https://c.s-microsoft.com/en-us/CMSFiles/TranscriptFY20Q1.docx?version=be2962be-e9f2-6dad-c9da-99da2c3077fa