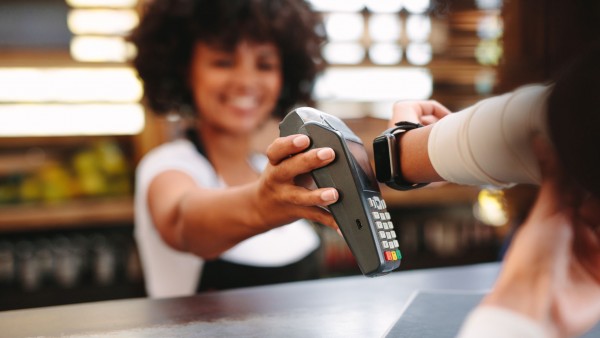 There have never been more varied ways to pay for goods and services without carrying hard cash. From smart watches and phones to 'smile to pay' facial recognition, technology takes the friction out of commerce, improves customer experiences and reduces risk.
With 71% of the global population predicted by the GSMA1 to have a mobile phone by 2025, and 79% of these set to be smart phones, access to cashless services is broadening and deepening in every region of the world. Non-cash payments including those using cards, wearables and digital wallets grew by 10.1% to reach $482.6 billion in 2016, according to the Capgemini World Payments Report 20182.
But while technology is key to the rise of digital payments, there are multiple drivers behind their adoption. And it is regions where all these drivers converge - such as the Nordics and Asia - that are taking the lead towards a cashless environment.
Governmental drivers
Governments of countries like India and China recognise the economic value digital payments deliver to communities. The Capgemini World Payments Report found that non-cash transaction growth rates accelerated in developing markets to reach 16.5% (compared to the global average of 10.1%).
The report says this was: "fuelled by governments' efforts to increase financial inclusion and the increasing adoption of mobile payments", particularly in India (33.2%) and China (25.8%).
The Chinese government has pushed for all vehicles to use Electronic Toll Collection (ETC) devices to replace manned booths on its national road network, for example, while earlier this year five regulatory bodies including the Ministry of Finance issued a set of guidelines to make mobile payments ubiquitous in rural areas by the end of 20203.
The Modi government constantly reiterates its strategy to 'demonetise' the Indian economy, most recently announcing a tax levy on cash withdrawals while rewarding electronic transactions as part of its annual Budget4.
Planners engaged in planning smart cities of the future acknowledge the capability of digital payments to enable new business models and stimulate consumer spending. A cashless society makes more transactions visible and therefore taxable - and reduces money laundering, bribery and corruption.
Venugopal PSV, Senior Director, Financial Services at Capgemini explains: "Governments are under tax pressure so need visibility over who is doing what, and who is selling what to whom. This is particularly true in the Middle East's oil-led economies, which governments are trying to diversify."
Dividends for businesses and banks
A cashless society benefits businesses as well as society. They no longer need to maintain cash reserves, bank their cash payments or pay bank charges for withdrawing physical currency. It's now possible to take digital payments for even the cheapest item in a store, from a coffee to a newspaper.
For banks, the move towards a cashless society means they have less ATMs to service and less cash to process. It also means central banks have a more accurate overview of money that is in circulation, which is particularly important in a downturn when people are likely to stockpile hard cash.
Beyond transparency and convenience, cashless transactions enable banks to build an overview of consumer behaviours. They can take spending data and combine it with other information sources to create compelling reasons for customers to take on a new product to pay for a big purchase, for example, or offer other third party services personalized to individuals.
"Digital payments are the gateway to broader offerings," Venugopal PSV explains. "If customers are already using digital services, banks can find more ways to support their needs."
Growing consumer demand
As well as being served more personalized offers by banks and retailers, consumers derive their own benefits from a cashless society. Number one is the convenience of not having to visit a bank or ATM to withdraw cash before making purchases, and the attendant risk of being targeted by criminals looking for easy money.
One recent example is the partnership between Dutch retailer Albert Heijn, US tech start-up AiFi and ING to trial a cashless store in in the city of Zaandam. Shoppers access the store with their bank card, which unlocks the door, then they simply collect goods up to the value of 25 Euros and their account is debited on their way out.
Digital payments also enable financial inclusion for the global unbanked and underserved population. The latest figures from the World Bank show that about 1.7 billion adults remain unbanked, for example. As the World Bank states: "Financial access connects people into the formal financial system, making day to day living easier and allowing then to build assets, mitigate shocks related to emergencies, illness or injury and make productive investments."
A third benefit is having access to an emerging set of money management tools that help consumers keep track of their spending. It's easy to lose track of where cash is being spent, but an app like Monzo or Mint categorises where payments are made and helps set goals for saving money.
The Swedish effect
Sweden is a great example of a country that has responded to all these drivers, from a government that foresaw the benefits of a cashless society, through national banks collaborating on standards and a common payment method called Swish – used by 6.33million of the country's 10 million total population - to growing demand for convenience and security from consumers and businesses.
As a result, Sweden moved ahead of the USA to record the world's largest annual rate of digital transactions per inhabitant at 461.15, compared to 459.6 per US inhabitant5. "Leader governments get the '5A' mix right - Access, Affordability, Acceptance, A-conomy (for alternative economy) and Assurance." Venugopal PSV, adds.
Cashless backlash?
While Sweden is predicted to become the first cashless society by 2023, there are still pockets of resistance to going completely cashless there – just as there are all over the world. Consumers in particular have concerns about banks, retailers, insurers and governments knowing too much about their spending habits.
Privacy campaigners worry that rapidly developing data analytics capabilities could enable the identification of personal health information and political leanings, for example. Older generations can worry about not having hard cash squirreled away in case of emergencies.
Governments are responding differently to these concerns, with US states including New Jersey introducing bills to ban completely cashless retail stores and restaurants, for example6. Sports stadia in the USA that want to speed up retail transactions have introduced reverse ATMs, where customers can exchange cash for pre-loaded credit cards for use in stores or to pay for refreshments.
However, with a dwindling minority of consumers now using cash for all their transactions, it's clear where the direction of travel is headed. As Venugopal PSV observes, keeping cash under the mattress may bring a certain amount of comfort, but it doesn't take account of inflation or monetary debasement.
"Cash will always be in circulation," he predicts. "But the proportion of those who use it as part of day to day spending will continue to fall. As well as going ahead and preparing for this from a transactional point of view, banks need to continue educating their customers about the benefits of digital payments, including security, convenience and additional services.
Looking ahead, banks should also be aware of the growing number of new technologies that are likely to emerge to make digital payments even faster and more secure.
E-wallets, peer-to-peer payments and facial recognition are all set to grow in popularity, for example, while it is already possible to have a digital implant7 inserted under the skin of your hand that can store medical data or enable you to unlock your front door. How long will it be before paying for your morning coffee will be as simple as waving your hand at a barista?
1 https://www.gsmaintelligence.com/research/?file=5a33fb6782bc75def8b6dc66af5da976&download
2 https://worldpaymentsreport.com/wp-content/uploads/sites/5/2018/10/World-Payments-Report-WPR18-2018.pdf
3 https://techcrunch.com/2019/02/22/china-wants-its-rural-villages-to-go-cashless-by-2020/
4 https://www.asianage.com/business/in-other-news/060719/budget-2019-govt-pushes-for-cashless-economy-digital-payment.html
5 https://www.finastra.com/viewpoints/market-insights/payments-in-the-nordics
6 https://arstechnica.com/tech-policy/2019/03/new-jersey-becomes-second-state-to-ban-cashless-shops-and-restaurants/
7 https://www.biohax.tech/
---
You might also be interested in