The robots are here: will AI change the banking landscape for the better?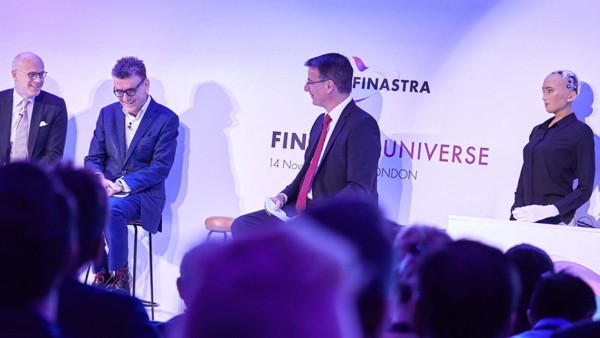 This time last week nearly 400 financial services professionals and industry experts joined us in London for our flagship regional thought leadership conference, Finastra Universe. Amongst open banking and platformification, artificial intelligence (AI) was high on the agenda… as humanoid Sophia - built by Hanson Robotics - took the stage to help our (human) panel explore what AI means for the future banking landscape.
A smarter future: As we debated what a smarter future could look like, one of the key questions we had to address was whether AI will replace people in the long run. For sure, the world is changing and as we move into the new age, technology like AI is carving out its niche. Should us mere mortals worry? In fact, when polled 40% of the audience said that AI would help them do their job better. Near on a quarter believed it will take care of their least interesting tasks – placing AI firmly in the support role rather than a threat to jobs.
Sophia's take: "Robots and artificial intelligence are not here to replace humans. We are here to make human lives better. We will help humanity to better focus on the spirit of innovation, collaboration and co-creation."
Bank benefits: "Any one technology is not going to transform the workplace, but it is when systems work together to provide a better understanding of quality data, presented in the right way with a single view, can you speed decision making and feed automated execution. This leaves the human condition doing high value work," according to panellist Mike Hobday, Vice President, UKI Cognitive Process Transformation Practice Leader at IBM.
This opens the door for banks to harness AI for the better. As well as reducing manual, repetitive administrative tasks, banks can use this technology to turn big data into recommendations and recommendations into action, to better serve customers.
Panellist, Octavio Marenzi, CEO at Opimas, noted, "There is a case to be made for AI actually increasing revenues and identifying opportunities, as well as supporting more effective sales and marketing work. A leaner, more agile IT infrastructure could also reduce costs. AI has a big role to play in coming years but it won't happen overnight."
New opportunities: Over half of the audience was either implementing AI tools or said they were nearly there with the business cases. Meanwhile, recent research from Gartner predicts that AI bots will power 85% of all customer service interactions by the year 2020. Does that mean a physical robot like Sophia in every branch? Probably not, but AI is absolutely gathering pace - stacking up to be a powerful force which the industry must embrace to drive growth.
As Sophia says, "It is early days, but I think there is absolutely a place for AI like me in the bank of the future."