FusionFabric.cloud chat with Paul Sutherland from BankBI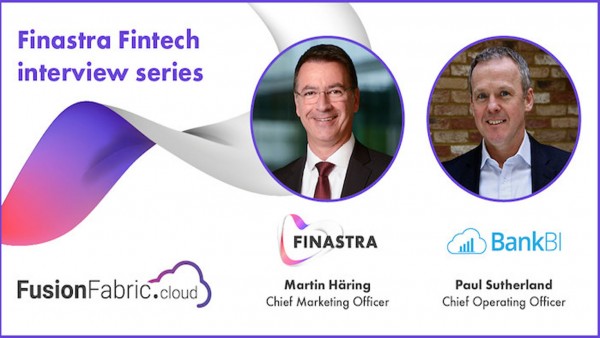 This week, I'd like to welcome Paul Sutherland, COO at BankBI.
Martin (M): Great to have you with us, Paul. To start off, it'd be great if you can tell me about the work you do at BankBI.
Paul (P): A pleasure, Martin. So, BankBI is a UK-based business intelligence and analytics software organization. We offer a performance management application for banks, credit unions and microfinance institutions. Our software is specifically aimed at lowering the cost of enterprise-class reporting by means of a cloud-based application and a subscription-based pricing model.
BankBI is designed and built to be delivered in a Software-as-a-Service model and eliminate the need for prolonged data warehousing projects. It offers tight integration with the leading core banking and general ledger applications in the market.
M: That's really interesting to hear, and it's clear that cloud is an important part of your business. What is it that attracts you to work with Finastra and to use the FusionFabric.cloud platform?
P: Working with Finastra on the Read
The pre-built integration and orchestration of processes through the platform simplifies due diligence for customers when vetting vendors for security, trust and adherence to standards for data interchange.
M: You mention pre-integration – presumably this, together with co-development opportunities, will help your development team in practice?
P: Yes. Co-development and a pre-integrated technology environment through the API layer speeds up the development process greatly. Pre-built customer integration provided via the platform to the core systems and their data will enable rapid install, deployment and configuration of the BankBI application.
M: Great to hear about the efficiency savings. Tell me a bit more about the apps you plan to make available through the platform.
P: Our flagship business intelligence and analytics application will be made available first. This is designed and built for Microsoft Azure and to be delivered in a Software-as-a-Service model. BankBI is platform independent, available via desktop, tablet and mobile, and offers financial and banking performance, risk and regulatory reporting, automated on a daily, weekly, and monthly basis. It incorporates the broadest range of industry standard KPIs and performance management ratios right out of the box by means of a pre-configured framework and helps financial institutions measure, monitor and manage critical management metrics in automated daily reporting and dashboards.
M: Are there any other benefits you envisage in using the FusionFabric.cloud development environment?
P: The FusionFabric.cloud platform and development environment is a framework within which we as partners can provide applications and services that meet the needs of banks. The API layer is a key technology enabler. We expect that being able to interact with the core systems via the pre-defined API layer will greatly accelerate the development process for us, making deliverables such as Artificial and Augmented Intelligence with user interfaces like Alexa and others much more achievable.
M: That's really exciting, and I certainly believe AI will be an important area to focus on in the coming years. One last question. How will FusionFabric.cloud support your growth plans over the next few years?
P: FusionFabric.cloud offers us access to a PaaS-based innovation journey, and BankBI is living that journey. We are entirely cloud based and have seen our customer numbers rise from 0-60 in a four-year start-up timeframe. For BankBI this is more than just technology, it is a business model.
Operational scale in our business is critical. We've recognized that the FusionFabric.cloud platform is highly scalable and so our investment in the platform is on a 'just in time' basis. As a SaaS provider we are an extension of our customers' operations, so our business scales where required – taking away the issue for our clients.
M: Thanks Paul, a really insightful discussion. We look forward to having you on the platform and helping to deliver even greater efficiency to your business!
To discover more about FusionFabric.cloud, visit our website. You can also see the chat I had with Rachel Batish at Conversation.one recently here.