Four new opportunities for growth and transformation in financial services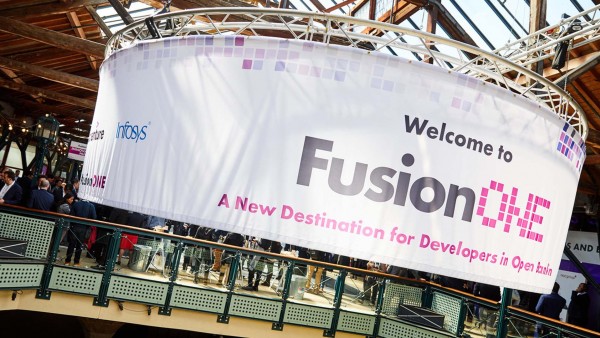 Recently we hosted Finastra's inaugural open banking developer event, FusionONE inviting developers from all backgrounds to collaborate to build the future of financial services. Innovation happens more successfully when different parties work together, sharing ideas, expertise and technology to achieve a common goal.
Here, I'd like to explore four new forces with the potential to accelerate transformation in financial services. I call them the 'Power of Four': open ecosystems, intelligent data, connected experiences and financial marketplaces. Our open platform for innovation, FusionFabric.cloud, facilitates transformation in each of these areas. Let's explore each in turn:
1.    Open ecosystems
The future of finance is undoubtedly opening up to new competition. Europe's PSD2 and Open Banking regulation is just the start. When you look at the rise of super apps in APAC like Alibaba Group, Ant Financial and Tencent – and the growing reach of big tech firms like Google, Amazon, Facebook and Apple in payments and other areas of finance – incumbent banks are right to examine their future. Working in isolation with 'closed' systems is simply not an option any more. Banks must open up and collaborate.
Now is the perfect time to think about financial inclusion – bringing more diversity and new ideas into the world of finance. We believe there are great opportunities for everyone who wants to get involved to do so through an open collaboration platform.
Banks should adopt a different mindset – looking beyond proprietary tech, protectionism and regulation that they believe will help preserve their position, and instead opening up to the benefits and opportunities available through increased collaboration.
2.    Intelligent data
One area where established banks have a clear advantage over new entrants is the wealth of data they have available: transaction data, credit data , risk data , trend data , behavioral data , socio-economic data and location-based data. Historically this has been unstructured and difficult to search, stuck in business siloes and not easy to share across lines of business . But as banks move their operations to the cloud and to a 'software as a service' model, it's opening up access to a wealth of underlying data. This in turn brings opportunities for big data analysis and to apply artificial intelligence and machine learning to turn data into actionable insights and recommendations.
As FusionFabric.cloud scales and more partners come on board, it brings infinite value-creation potential, and the ability to unlock a wealth of data for all participants . Of course, customer privacy is paramount. Microsoft and Finastra are very clear: the data belongs to the customer. This brings tremendous trust. It's notable that more and more customers in Europe, and particularly APAC, are willing to share their data for a 'fair value' exchange – where a bank is able to offer them a more personalized offer or discount because of the data shared. The ability to access and monetize data in this way to deliver improved customer service will be a crucial ingredient in future success.
3.    Connected experiences  
Building connected experiences is about bringing solutions together to deliver more than the sum of each individual part. It's about creating higher value solutions, connected through open APIs , that offer a more holistic user experience or customer journey.
By making our solutions accessible through open APIs, others can build value on top, building solutions more quickly and focusing on the business idea without worrying about the back-end infrastructure. Just as Apple encourages developers to create apps and make them available through Apple iOS, our solution store is available to all.
As an example, we've used FusionFabric.cloud to build our Fusion Mortgagebot solution on top of Microsoft PowerBI and PowerApps. Using innovative AI and data visualization, this functionality adds powerful analytics and dashboards to help users uncover trends and spot new business opportunities in the mortgage lending arena. The power of the integrated solution goes beyond the scope of the individual applications alone.
Forward-thinking enterprises across the globe, from PingAn to Salesforce, Microsoft and Apple, recognize the value to be gained in creating connected experiences and ecosystems, and all are thriving as a result. Banks can do the same.
4.    Financial marketplaces
Banking has a lot to learn from the transformation that has already happened across other industries: from retail to hospitality to transport. We've seen the success that a company such as Amazon has achieved. In 10 years, Amazon has grown from 25,000 employees to almost 600,000 and revenues have grown from $25 billion to $200 billion.
After succeeding as an online bookstore, it evolved its business into a marketplace – bringing buyers and sellers together to overcome the limited choice, rigid pricing, slow delivery and variable service found at local bookstores. That was just the start. It quickly became a generic, multi-sided marketplace for everything and everybody.
A successful marketplace offers two key benefits: removing friction from the process of bringing buyers and sellers togetherand solving a big problem in terms of total value.  The best marketplaces offer a transparent business model; connectivity and exchange standards; value for customers through open competition; and accessibility for all.
Finastra is working with partners to unlock opportunities for new financial marketplaces – one example is Fusion LenderComm,which is bringing increased transparency to banks and other participants in the syndicated loan market.
Open to all
FusionFabric.cloud can help you deliver on the promises of open ecosystems, intelligent data, connected experiences and financial marketplaces. But if there's one thing we should take away from FusionONE, it's that the platform is open to all. There are potential business opportunities for everyone: banks , Fintechs , ISVs , SIs, students , academics , and independent developers. All can sign up for free and get involved!