Considerations for corporate banking CIOs: A look at IDC's MarketScape for commercial banking IT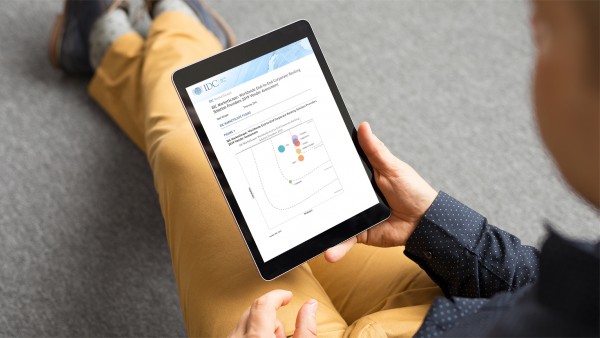 When I was CIO for Cash & Trade at a major European corporate bank, one of my priorities was understanding the lifecycle of the corporate client and translating that into their digital journey along the product value with the bank. Corporates looked to us (in the CIO team) and product as their advisors on technology. Today, corporates are getting increasingly impatient and expect banks to move more quickly with the latest technology-enabled services. They want platforms that better connect their financial services requirements with the increasing range of technologies they use. So how can bank CIOs keep pace with these expectations?
This new IDC MarketScape assesses bank IT vendors for their end-to-end corporate banking software capabilities, including their readiness to meet the latest data, cloud and open API challenges that are threatening established ways of doing business.
Open banking holds the door ajar for newcomers to nibble away at bank business. It has triggered the decoupling of services from production in the corporate banking space, as we've seen happen in lots of other industries – from autos to hospitality. Banks run the risk of being tied down by product delivery while challengers can enter the ecosystem with services that operate as 'over-the-top' solutions, capturing valuable fee-based revenue. They can do this with few of the headaches that come from being a 'manufacturer' of products.
Airbnb doesn't need its rooms. Uber doesn't need its taxis. Amazon doesn't need to be a bank to provide banking services. Challenger banks don't need to originate their loans if they can serve up the best deals in the marketplace at the right time. The one thing all these platforms do crave though is the interaction and relationship with the customer.
35% of SMEs and large corporations are already participating in open banking ecosystem platforms, and a further 42% plan to do so within the next year, according to this recent Accenture study.
Corporates want more innovative processes and better customer experiences with seamless, easy-to-use solutions. They want lower connectivity costs, faster data delivery, and integrated bank systems with corporate enterprise resource planning (ERP), and treasury management systems (TMS).
Banks have a distinct advantage in being able to deliver what corporate customers need. They have strong trust bonds with their commercial customers, built on a heritage of data security and privacy. 68% of companies globally would prefer their bank to a non-bank to play the central platform role in an open banking ecosystem (Accenture Open Banking for Business Survey 2018).
Corporates want seamless integrations and treasury workstations that provide full visibility of their global finances, across payments, cash, trade, FX and lending. How can the incumbents succeed in this new world?
As the IDC MarketScape reports:
"An efficient end-to-end (E2E) omnichannel solution provides core bank processing capabilities and spans key functions, such as treasury and lending, to ensure a good customer experience (CX), and readily accessible data for internal bank clients is crucial. Ultimately, end-user clients at large multinational corporations (MNC) or small and medium-sized enterprises (SMEs) want fast, integrated data and services. Only banks that can provide it — with the help of their solution providers - will survive the squeeze in this marketplace."
IDC recognises Finastra as a leader in global end-to-end corporate banking based on its breadth of capability, level of connected solutions, API and cloud strategy, and track record of global delivery. This builds on recognition from other analyst houses like Celent who also rank Finastra as the broadest deepest solution provider.
Banks must respond to the market challenges with a focus on IT agility, service innovation, and the technology strategy to maintain market share and remain relevant. They remain the trusted advisors to corporates on finance and treasury technology.
Like IDC, we increasingly see end-to-end capabilities spanning and integrating the disparate services of a corporate bank – from lending to trade finance to payments – as being important selection criterion for new technology.
Strategic vendors that provide ease of integration, core processing strength, stability, global experience and a platform for fast innovation can provide the guidance, technology and ecosystem solutions to harmonize the services corporate clients demand.
Read the IDC MarketScape analysis here