Coffee's on me – but pay the favor forward...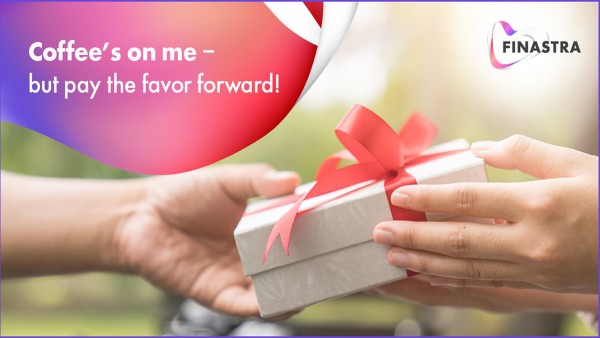 Last week at our office Christmas party, I won a voucher for a two-night stay at a nice hotel. On impulse I gave it to a colleague with one ask: pay it forward by doing something for someone else. I plan to continue this practice – I believe it produces positive results over and above the immediate benefit to the recipient.
As a business executive, a great deal of my time is spent focusing on results and how my team and I can make a difference to the business: tracking revenue, quantifying return on investment, net promoter score, cost of customer acquisition, and many other metrics. But even the most precise analytics have a limit – there are intangible ways we can make a difference. It's the time of year when we consider less material things and look to our personal and business networks to benefit others.
The phrase 'pay it forward' is well-known, particularly since the 2000 movie, but the idea goes back much further. Paying it forward entails performing an act of kindness with no thought of reward, and, rather than the recipient paying you back, they 'pay it forward' by performing an act of kindness for someone else. The idea is that if everyone does this, the network effect drives a powerful force for good in society.
It's a compelling idea because the element of randomness means positive things can happen unexpectedly for people – but also because it really feels good to do something for someone else with no strings attached.
In the workplace we're accustomed to thinking transactionally: "what's in it for me?" is often our default response when tasked with a new responsibility or project. Yet office culture could be so much more positive if we created a wave of constructive actions based on not expecting anything back – but projecting the goodwill to someone else in future.
Here are some positive acts costing nothing which could trigger a 'pay it forward' response:
Write a thank you note to a colleague and copy it to their manager
Do something nice for your most difficult colleague – sometimes a little kindness goes a long way
Buy coffee or lunch for the person behind you in line at the cafeteria or next to you in the office, and ask them to pay it forward
Send a note to the client contacts you know well,  thanking them for their trust and asking them to pay it forward to their customers
Have a 'Pay it Forward' day in the office
Encourage all to take a picture or make a video that inspires others to keep the kindness going
Finastra's coding training for children and participation in Code.org's Hour of Code initiative are ways we invest in a better future for the children. But we can start on a personal level by finding opportunities to pay it forward among our circle of family, friends and colleagues. 
I want to thank my mentor and Finastra CEO Simon Paris who encourages us not to get too fixated on our short-term goals but keep paying it forward both in business and in our daily lives.