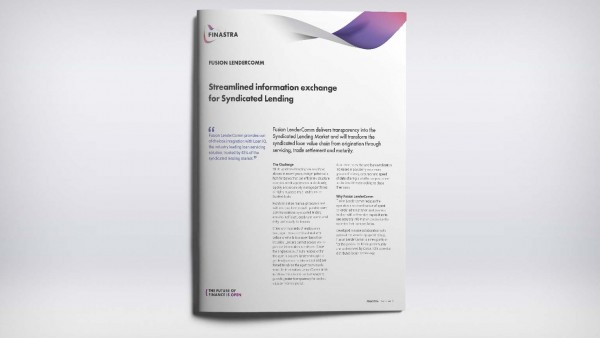 Fusion LenderComm is a servicing portal that digitizes simple and effective communication between agent and lender by providing detailed information on the deal and facility structures and the underlying outstanding information with a view of the global and lender position.
For agents, Fusion LenderComm removes all the manual interactions with potentially hundreds or even thousands of lenders in a syndicated lending deal resulting in a significant cost saving. With a golden source of transactions exposed to the right lenders at the right time in a fully automated and secure way loan operations can be streamlined, reducing the cost of doing business.
For lenders, Fusion LenderComm provides a huge improvement in loan agency service with immediate information on the deals they are participating in at their fingertips. Information on positions enables traders to then capitalize fully on more accurate timely deal information to make smart decisions to grow or de-risk the business.
Fusion LenderComm is a cloud offering enabling quick and easy adoption for both agents and lenders, hosted on Azure.
---
You might also be interested in