Get maximum value from Fusion solutions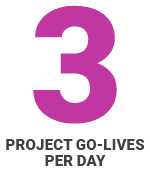 Finastra Services' core purpose is to help our customers adopt Finastra solutions, optimize their use and further advance their business. We work with our clients to deliver maximum efficiency and value, encouraging growth and innovation through our partner ecosystem.
We have the experience, expertise and ecosystem to deliver successful client programs. In the last Financial year, we and our partners completed 3 project go-lives a day.
Better, Faster, Safer
With Finastra solutions, you've chosen the platform and components that can transform your business to meet the challenges of today and the future.
Finastra Services help you get the maximum return on your investment, with better outcomes that are achieved faster and safer.
From implementation to upgrade, we use proven methods and processes to optimize time to value, cost to achieve and the total cost of operation from your chosen Fusion solution.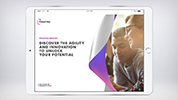 Finastra Services Brochure
Discover the agility and innovation to unlock your potential. Learn more.
Finastra Services Spotlight
The world has changed and we have changed with it. We ensure we have shifted our operations to deliver our solutions for our customers, no matter the circumstances.
We continually invest in our delivery models to ensure we deliver success, and can adapt and flex our services to be fully remote or in a hybrid approach, with no drop in quality.
Upgrading with Finastra's Fusion Advance
Designed for when you need to upgrade and extend your Finastra solution, Fusion Advance delivers fast and efficient upgrades, for a more sustainable and agile future business.
---
Our Services
To learn more about each service, click on the circles below.
Do you want to know more about our services?