Our suite of services is designed to support your success in achieving your outcomes.
Our portfolio provides support at every stage of your lifecycle – from adoption and optimization, to growth and transformation – with a focus on providing you with services that deliver value, quality and long-term partnerships.
Combined with our leading software and world-class partner ecosystem we help you increase ROI, reduce risks and realize your objectives.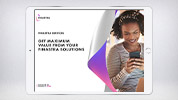 Finastra Services Brochure
Discover the agility and innovation to unlock your potential. Learn more.
Your business needs
All customers have unique needs. That's why we've designed our services to provide lasting impact, with your objectives at the heart of every project. Choose from the different scenarios below to find out how we can help you.
I want to
Finastra Services Spotlight
Find out about featured Finastra Services insights, videos and updates.
We believe the most effective relationships are those done in full partnership. Whether you are looking to consult on a specific objective or develop a long-term strategy, we can help.
We help you plan and execute on your transformation, including helping you plan your move to open banking on our innovative platform FusionFabric.cloud.
When planning your transformation, Fusion Inception is a short engagement that can help you identify your roadmap for your minimum viable product and beyond, putting you on the path to launch a solution that meets your required outcomes.
Our Architecture review and design authority service highlights opportunities to improve your architecture and then ensures that proposed changes can take place in an effective governance framework.
If you're already further down the line, we can help execute on a new plan. For those starting out with Finastra software, Fusion Adopt helps to implement our solutions according to market best practice, based on proven techniques, and with minimum disruption and risk.
You could also take advantage of Fusion Select, our complete, end-to-end services subscription offering, with ability to choose the mix of Finastra Services best suited for you. We help you achieve your long-term objectives through a collaborative success plan, delivered through a flexible service model.
Finally, you can further accelerate innovation and change through Fusion Managed Services, which will enable you to move your operations to cloud, reduce your business burden and risk, and increase your agility, through a fully supported managed service.
The path to modernization can take many forms, whether updating your systems or moving to a cloud-hosted solution. Whatever you need, we have the services to match.
Moving operations to cloud is a key imperative today. With pressures on banks to deliver increased security, agility and ROI, cloud solutions have become a go-to.
You want to get the most out of your Finastra solution. We have put together a range of services to support customers looking to maximize benefit from Finastra software.
Optimize your solution and its management
Fusion Optimize provides a range of system optimization services, including health checks and action-oriented services to help you achieve the optimum performance and value from your chosen solution. We can also take this to another level with Fusion Managed Services, removing the everyday management burden and allowing you to focus on your priorities.
We know that every organization's support requirements are different, with changing needs at key times. With Extended Support Services, you can customize the level of support to match your unique situation.
Increase your people performance
Your people are a key resource and help drive your business to success. To allow them to excel you need world-class training and enablement.
Our Fusion Knowledge Services suite of training provides you with training to fit your needs at every step. From in-depth technical to user based functional training, we have developed packages that meet every level of need. We can provide online, self-paced learning through subscriptions, to give you the freedom to choose when and where, as well as instructor led and bespoke programs.
Underpinned by partnership services
For an added level of flexibility when you are looking to optimize your solutions, we have our high-impact Fusion Select service, where we work closely with you to achieve outcomes together. You can choose from elements of all our services to achieve your outcomes through a holistic success plan.
Through Fusion Select you can subscribe to any service you need to achieve your objectives. Our services ensure you are primed and able to execute quickly to maximize ROI. The choice is yours with Fusion Select, you decide what is best suited to help you achieve your objectives.
From implementation to upgrade, we use proven methods and processes to optimize time to value, cost to achieve and the total cost of ownership from your chosen Fusion solution.
When you choose a Fusion solution for the first time, Fusion Adopt helps you to implement it according to market best practice, based on proven techniques and with minimum disruption and risk.
When it's time to upgrade, we can provide fast, efficient upgrading for sustainable success, through Fusion Advance. Our upgrades reduce risk and disruption, maximize project predictability, and increase future agility.
Innovative approach to delivery
Fusion Transform provides a more advanced way to approach project delivery, taking a complete, end-to-end view, which underpins both better cost and quality of ownership.
We also believe in the power of effective training. That's why we designed Fusion Knowledge Services, a training offering geared toward helping you maximize value from your solutions, through the initial project, your go-live and beyond by empowering your employees to reap the full potential that your solutions have to offer.
When you want to lead your own projects, we can be on hand to help and support you to execute successfully.
Through our Fusion Assure service, we can support you with validation during your project, to ensure you are confident that your project is running to the standard you expect. We also provide a Project Support service to give you an added level of help, to ease troubleshooting, accelerate issue resolution and maximize solution value.
We offer expert training through Fusion Knowledge Services, our unique training proposition, allowing you to build and maintain the skills needed to successfully lead and deliver DIY projects with your Finastra solution. Empower your employees to maximize the potential of your Finastra solutions.
We know the importance of ensuring our customers can get our quality services where and when they need them, so we have created a vibrant and diverse partner ecosystem.
This ecosystem gives you a huge breadth and depth of coverage whilst still maintaining our superior level of engagement. We provide services that enable our partners as well as project assurance to ensure our solutions are delivered to best-practice standards.
Learn more details about our partner services.
We pride ourselves on our breadth and depth of delivery expertise to help you achieve successful outcomes with Finastra solutions.
Fusion Transform is revolutionizing the way we deliver our projects. We take a holistic view, taking the time to understand your objectives when planning our engagement. To optimize quality and cost of ownership, we leverage end-to-end test automation and standardized integrations, to support ongoing agility.
We also know that every bank is unique and will have differing needs, so we have flexible options in delivery as well, and can talk to you to see which model fits your business best.
Do you want to know more about our services?