Finastra to power core retail banking at Al Taif Islamic Bank
New Iraqi challenger bank will optimize customer experience in line with Islamic Banking regulations
Dubai, UAE, March 5, 2019 - Al Taif Islamic Bank has chosen Fusion Islamic, Finastra's core banking solution dedicated to the Islamic market, to kick start its retail business. The move will provide the new challenger bank's customers with a consistent and user-friendly experience in branch and across all digital channels, whilst complying with Shari'ah requirements.
Al Taif Islamic Bank, which started 15 years ago as Al Taif Company for Money Transfer and is part of Al Taif Group, has ambitious goals to establish itself as a leader in the financial market in Iraq. Finastra's solution is delivered with pre-configured Shari'ah compliant products, which will help the bank develop new services faster and roll them out through multiple channels at low cost, giving it a competitive edge. Fusion Islamic is also expected to alleviate pressure on IT teams whilst ensuring rapid time-to-market, minimizing risks and maximizing efficiency.
Reda Hamza, CEO at Al Taif Islamic Bank said, "Our vision is to challenge the status quo of the financial services sector in Iraq and there is a strong opportunity to offer new services to the unbanked population here. In addition to our branch presence, going digital is the best way for us to reach this market. Working with Finastra means that we have access to wide resources and products which will help us launch our branch quickly as we roll out the digital offering, and then accompany us on our exciting growth journey. Our company has been ranked the best in Iraq when it comes to money transfer and banking, due to our extensive network of branches within Iraq and all over the world. We are looking forward to collaborating with Finastra and continuing our success story with our broad base of customers and positioning ourselves as leaders in Islamic Banking in Iraq."
Al Taif Islamic Bank selected Finastra for its solid reputation in the region and the possibility to enhance and extend the functionality of their product with features relevant to their needs. The ability to benefit from FusionFabric.cloud, Finastra's platform for open innovation, was also a draw. This will enable the bank to develop new features and capabilities in the cloud in the future either internally or in conjunction with external parties including Fintechs and developers.
Wissam Khoury, Managing Director Middle East and Africa at Finastra said, "Al Taif Islamic Bank is the first Iraqi private bank we have worked with, and is a great example of a forward-thinking organization ready to embrace digital. Whilst this deal is initially aimed at the bank's retail customers, we have also signed a strategic partnership with the Al Taif Group's IT arm (Al Taif Technical Services) to build skills and capabilities to help transfer knowledge in the growing Iraqi Fintech sector, enabling us to develop our presence in the region and encourage collaboration."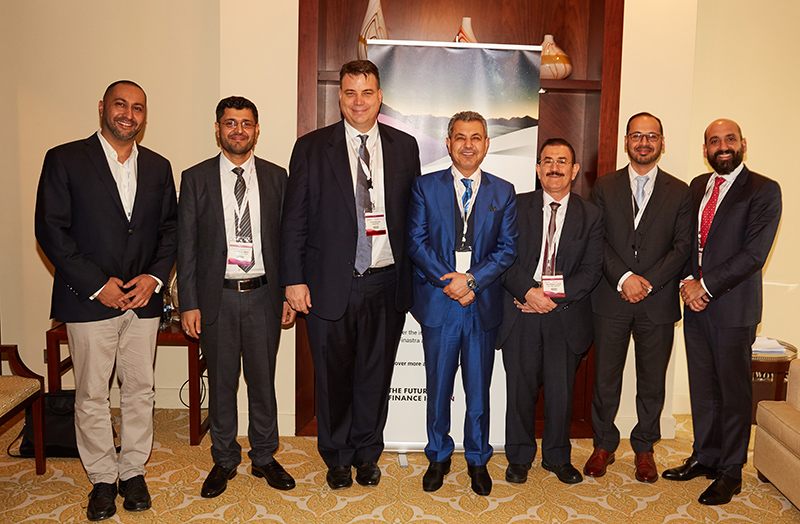 Showing in photo, left to right: Mohammad Al Mossawi, Country Manager at Finastra; Naseer Mahdi, Managing Director – Al Taif Technical Solutions (TTS); Ryan Keough, Executive Vice President, International Sales at Finastra; Farhan Al Musawi, Chairman, Al Taif Group; Mohammah Al Qasim (previously at Al Taif); Farook al Jubouri, CEO Cyber Code Technologies (system integrator partner); Wissam Khoury, Managing Director Middle East and Africa at Finastra.
For further information please contact:
Caroline Duff
Global Head of PR, Finastra
T: +44 (0)20 3320 5892
E: caroline.duff@finastra.com
www.finastra.com
Harriet Pickering
PR Specialist EMEA, Finastra
T: +44 (0)20 3320 5317
E: harriet.pickering@finastra.com
www.finastra.com
About Finastra
Finastra unlocks the potential of people and businesses in finance, creating a platform for open innovation. Formed in 2017 by the combination of Misys and D+H, we provide the broadest portfolio of financial services software in the world today—spanning retail banking, transaction banking, lending, and treasury and capital markets. Our solutions enable customers to deploy mission critical technology on premises or in the cloud. Our scale and geographical reach means that we can serve customers effectively, regardless of their size or geographic location—from global financial institutions, to community banks and credit unions. Through our open, secure and reliable solutions, customers are empowered to accelerate growth, optimize cost, mitigate risk and continually evolve to meet the changing needs of their customers. 90 of the world's top 100 banks use Finastra technology.
Please visit finastra.com.
Corporate headquarters
4 Kingdom Street
Paddington
London W2 6BD
United Kingdom
T: +44 20 3320 5000