Open Minds Meet Up Series
---

Platform, innovation, fintech, the Tablestakes in a Digital Future
Platforms, fintech partnerships and ecosystems are fueling the rapid innovation taking place in Finamcial Services. We recently published a blog with insights from leading Global Fintech influencers noting the common trends shaping the future of financial services. In that blog we noted the rise of the platform ecology, cloud, emerging technology and culture as key drivers which are causing disruptive possibilities. Now we turn to the local ecosystem and have hand picked three pioneers in fintech blazing a trail in building open ecosystems for financial services community. Liz Lumley, Magdalena Kron and Max Firth will all share their insight on how they are building fintech platforms for a bright digital future and how these platforms will shape the future of financial services.
Interact and hear from these amazing influencers by registering for this event.
When: Thursday November 28th, 18:00 - 20:30 GMT
Where: The Open Zone at the Finastra Experience Centre
Address: 1st Floor, 4 Kingdom Street, Paddington W2 6BD (Map)
Speakers
Liz Lumley, Director of FinTech, VC Innovations
Liz Lumley is a global specialist commentator on global financial technology or 'FinTech'. She has spent over 20 years working in the financial technology space, most recently as Managing Director at Startupbootcamp FinTech London and as an editor at financial services and technology newswire, Finextra. In addition to being an internationally recognised conference speaker and moderator, she is currently Director of FinTech at VC Innovations a London-based disruptive community builder for innovation industries.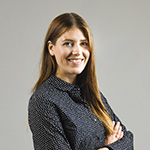 Magdalena Kron, Rise Global FinTech Director at Barclays
Magdalena Kron, Rise Global FinTech Director at Barclays, is building a network of the most transformative technologies in financial services today. Overseeing the four physical Rise sites in Tel Aviv, Mumbai, New York and London, Magdalena is shaping how the platform facilitates more connectivity by linking technology, talent and trends to Barclays, corporate partners and FinTechs. As a great advocate for diversity in tech and finance Magdalena is the co-founder and, today, advisor for GeekGirl Meetup UK, one of London's largest women in tech groups. Magdalena has also been named as one of the most influential women in UK technology (by Computer Weekly), repeatedly been featured on the Innovate Finance Powerlist (2017, 2018 & 2019) and in 2018 she won the Women in Finance Awards for Finance Rising star of the Year and FinTech Champion of the year.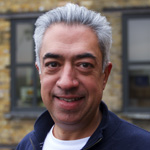 Max Firth, Managing Director of Funding Xchange
Max is Managing Director of Funding Xchange, having previously run the Business Information Division at Experian in the UK&I for 7 years. Previous to Experian he worked at The pH Group, an SME specialising in data and analytics which was sold to Experian in 2007. The challenge of helping SMEs to get funding is something that has run through his career: first at pH trying to help banks identify those SMEs with the most need, and then at Experian where he focused on helping SMEs understand their credit profile in order to increase the likelihood of successfully applying for credit. Funding Xchange's goal, of enabling SMEs to get access to finance in minutes through the use of data, intelligence, but with a personal touch, brings together these different strands into a business that can transform UK SME access to credit.
Moderator and Host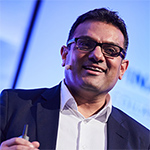 Mitesh Soni, Evangelist, Platform, Innovation and Fintech, Finastra

Mitesh is a global banking expert with more than 20 years' experience driving business transformation, digital disruption, and business model definition across the financial markets. Prior to becoming Finastra's Chief Evangelist, Mitesh was the company's Senior Director of Innovation and Fintech. Additional previous experience includes leadership roles at various leading global financial institutions including HSBC, Deutsche Bank and Morgan Stanley, and other financial intuitions across the US, EMEA and APAC regions. Mitesh was an early member of the IBM Capital Markets group and takes an active interest in emerging technologies like AI, Blockchain, Robotics and AR/VR.