Open Minds Meet Up Series
---

Driving digital transformation with design thinking
"The mind is like a parachute; it works best when it is open."
- Dalai Lama
Digital transformation is accelerated by human transformation which begins with unlocking the enormous potential of our thinking. How can we think bigger, stay curious and release the potential of open thinking?
We are teaming up with our friends at FinTECHTalents community to launch the Open Minds Meet Up Series. Monthly meetups to build a vibrant ecosystem of leaders in finance. Explore new ideas and kick-start active conversations with the community to create a mindset of continuous learning starting with Design Thinking!
Come and join us to meet other senior leaders shaping the future of finance.
When: Thursday October 17th, 18:00 - 20:00 BST
Where: The Open Zone at the Finastra Experience Centre
Address: 1st Floor, 4 Kingdom Street, Paddington W2 6BD (Map)
Speakers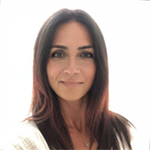 Alberta Soranzo, Transformation Design Director, Lloyds Banking Group

Senior design and organizational transformation executive, with a deep specialism in service design, systems thinking and agile. Extensive experience transforming organizations, building and leading multidisciplinary teams, facilitating the creation of collaborative environments, and the introduction and application of agile methodologies. My focus is on transforming organizations to support design and delivery of future-friendly, end-to-end service experiences that are insight-led and unlock value for customers and businesses.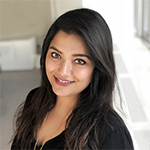 Tanaya Jasubhai, Design Services Lead, Finastra

Tanaya Jasubhai leads Design Services for Europe. A customer experience strategist and product design lead, she has over 7 years experience helping Tier 1 banks strategically solve business challenges and identify opportunities for differentiation across people, process and technology through design thinking and build solutions that transform the way corporates and businesses engage with their customers.
Moderator and Host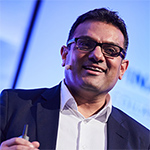 Mitesh Soni, Evangelist, Platform, Innovation and Fintech, Finastra

Mitesh is a global banking expert with more than 20 years' experience driving business transformation, digital disruption, and business model definition across the financial markets. Prior to becoming Finastra's Chief Evangelist, Mitesh was the company's Senior Director of Innovation and Fintech. Additional previous experience includes leadership roles at various leading global financial institutions including HSBC, Deutsche Bank and Morgan Stanley, and other financial intuitions across the US, EMEA and APAC regions. Mitesh was an early member of the IBM Capital Markets group and takes an active interest in emerging technologies like AI, Blockchain, Robotics and AR/VR.