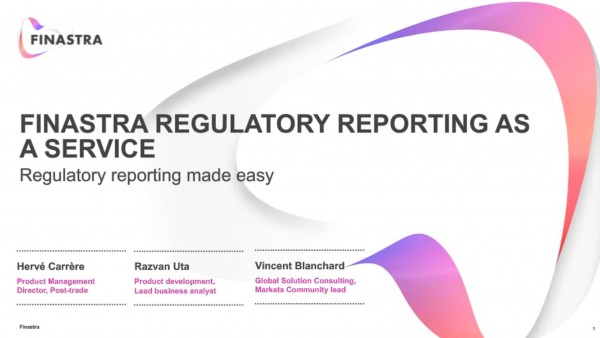 Join this webinar to learn more about:
How to comply with SFTR– quickly and efficiently
Optimizing workflows for all transaction reporting requirements
The drivers and benefits of a cloud-based reporting solution
There will also be a short demonstration of a solution to show how you can seamlessly manage your reporting across different regimes.
The challenges of reporting regulations like SFTR are placing a significant data management burden on market participants:
Firms have to provide a significant volume of data to comply with regulation – which also needs to be reconciled with counterparties
This data often needs to be sourced from multiple systems, standardized, enriched, and quality checked
As a result, operational costs are increasing significantly, further impacting organization's bottom line.
However, compliance with reporting regulations provide an opportunity for firms to rethink their data architecture and centralize reporting into a common platform – ultimately creating new efficiencies.
Speakers:
Herve Carrere, Director Product Management Post Trade
Finastra
Herve has 20 years of experience in Treasury & Capital Markets where he held several senior roles. Prior joining Finastra, Herve head the Calypso Professional Services division for the EMEA region, then went on to setup their Post Trade product team for the last decade where he has been architecting, building and steering innovative post trade solutions for different types of clients around the globe. At Finastra, Herve focuses on Post Trade, Collateral and on technology, market and regulatory changes impacting capital markets.
Razvan Uta, Lead Business Analyst
Finastra
Razvan's journey at Finastra started in 2015 when he joined as an Associate Quality Assurance analyst. After around one year and a half he accepted a new challenge and joined the Product Management team. Razvan has a master's degree (Advanced Research in Finance) from the University of Economic Studies in Bucharest, Faculty of Finance and Banking. Also,he just passed CFA Level 2 exam.