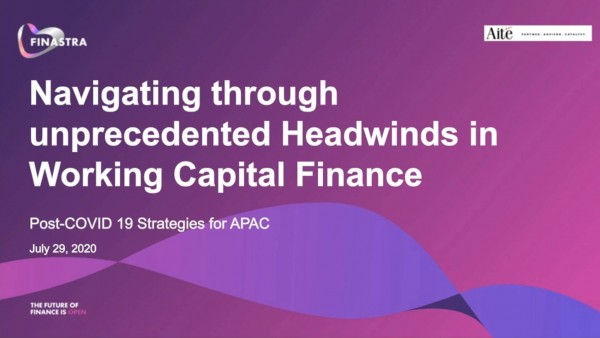 The COVID-19 pandemic has been unprecedented, leading to greater geopolitical uncertainties and increased market turbulence. The adoption of new business models becomes the focus as banks compete to stay relevant and future-proof their international Trade and Supply Chain Finance business.
To deal with the financial volatility in the market, there's a need to accelerate digitalization and the use of new technologies through collaboration and ecosystem integration, transforming the Working Capital Finance landscape for corporate banks.
Join Finastra in this exclusive joint webinar with Aite Group to learn more about:
Digitalization of data - the future Trade and Supply Chain Finance landscape in APAC?
The impacts to banks before and after the democratization of digital trade
How Finastra can help you transform through a collaborative, ecosystem-based approach, and deliver the new reality for corporates
Participate in interactive Q&A
Speakers
Michael Walker
Head of Working Capital Finance, Asia Pacific
Finastra
Michael Walker is a subject matter expert in all areas of Corporate Banking, and leads the Trade and Supply Chain Finance team in APAC. Prior to this he ran Sales Enablement for Corporate Banking, Payments and Retail ROW, having joined Finastra as a Product Manager in Trade Finance. Michael spent five years at Barclays in various roles Corporate Banking technology and operations roles at Barclays before to joining Finastra three years ago.
He holds a Master's Degree in Systems Engineering from Loughborough University in the United Kingdom.
Enrico Camerinelli
Senior Analyst
Aite Group
Enrico Camerinelli is a senior analyst at Aite Groupspecializing in wholesale banking, cash and trade finance, and payments. Based in Milan, he brings a strong European focus to Aite Group's Wholesale Banking practice.
Mr. Camerinelli has been widely quoted by publications ranging from American Banker to the Financial Times. He has contributed editorial content to publications such as Supply Chain Europe, serves as a consulting editor withgt news,and is the author of Measuring the Value of the Supply Chain, a book about linking financial performance to the supply chain. He has spoken at leading trade shows and conferences in Europe, including Sibos and EuroFinance and has extensive experience within his areas of coverage as well as in providing research and consulting services to clients.
Most recently, he served as a senior analyst with Celent, focusing on the financial supply chain and Single Euro Payments Area (SEPA). Prior to that, he was the European director and chief analyst at the Supply Chain Council, a non-profit serving the logistics and supply-chain industry. In that capacity, Mr. Camerinelli provided independent research and advisory services as well as business development and budget control for the organization.
Samuel John Mathew
Managing Director, Head – Documentary Trade, Product Management Transaction Banking
Standard Chartered Bank
Samuel Mathew heads up the Documentary Trade Product team for the Transaction Banking business at Standard Chartered Bank. In his current role, Samuel's team is in charge of leading the Bank's Documentary Trade capabilities, vision and P&L as also leading the sustainable trade finance initiatives. In addition, he also acts as the Chief Product Owner (CPO) for the re-platforming the Bank's trade finance platforms with the latest open banking and micro-services-based technologies.
His previous roles include Regional Head of Sales – ASEAN for Local Corporates & Commodity clients, Global Head – Trade Solutions Structuring, Regional Head of Product Management for SEA, Global Head of Collections & A/R product solutions, Regional Product Manager in charge of Receivables solutions etc.
Samuel has over 20+ years of Transaction Banking experience with leading banks such as Standard Chartered Bank, Citibank N.A. and Deutsche Bank. A graduate of Bombay University, Mumbai with 1st Class Honors in Engineering, Samuel also holds an MBA from the Nanyang Business School in Singapore.
ABOUT AITE GROUP
Aite Group is an independent research and advisory firm focused on business, technology, and regulatory issues and their impact on the financial services industry. With expertise in banking, payments, wealth management, capital markets, and insurance, Aite Group's analysts deliver comprehensive, actionable advice to key market participants in financial services. Headquartered in Boston with a presence in New York, San Francisco, London, and Milan, Aite Group works with its clients as a partner, advisor, and catalyst, challenging their basic assumptions and ensuring they remain at the forefront of industry trends.