Moving forward with mortgage, How community financial institutions can support a healthier housing market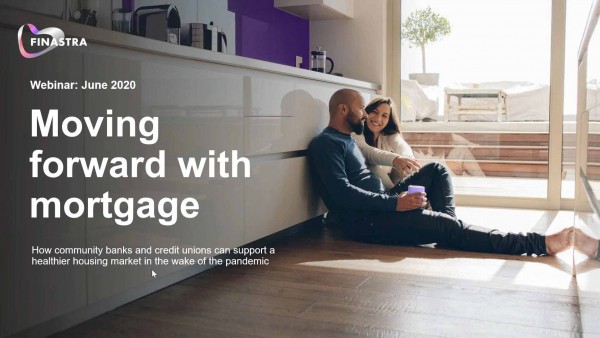 While COVID-19 brings uncertainty, it is times like these when community banks and credit unions are often at their strongest, extending extraordinary measures to serve local communities.
Watch this on-demand webinar to learn the impact the pandemic has had on the housing market and how mortgage lenders can continue to meet mortgage needs even during this time of social distancing.
You'll learn:
Mortgage relief and the long-term impact
Mortgage refinancing and the roller coaster ride
The importance of data driven digital solutions
Speakers:
DAN PUTNEY
Managing Director, Mortgage Solutions, Finastra
Dan has been with Finastra since 2011 and has more than two decades of hands-on mortgage-related industry expertise. He has worked for banks, in mortgage insurance and in sales leadership roles with other global software providers. This unique combination of in-house banking, mortgage, technology and sales experience enables Dan to understand a bank's unique needs and to work with his team to tailor the best solution for community banks and credit unions.
STEVE HOKE
Vice President & General Manager, Mortgage and Commercial Lending Solutions, Finastra
With more than 20 years in the financial services industry, Steve brings a broad range of experience in FinTech, insurance, lending and investment banking.  His unique background allows Steve to lead a strategic product team focused on improving the lending experience for home buyers and businesses in communities across the country.
---
You might also be interested in