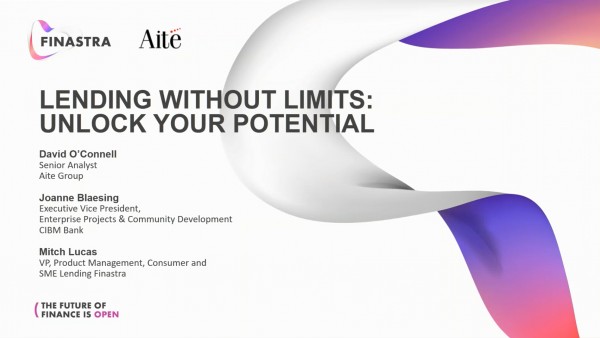 It has been estimated that banks can drive a 45% improvement in net profits by undertaking a digital transformation to their programs with a 50% improvement in productivity and customer service. Innovation and automation of lending processes is key for growth in lending but are you embracing this process and unlocking your potential?
View this video to learn how CIBM Bank has embraced technology to work smarter, not harder, and continue to grow their loan portfolio. Included in this panel discussion is Joanne Blaesing, Executive Vice President, Enterprise Projects & Community Development at CIBM, David O'Connell, Aite Sr. Analyst, Mitch Lucas, VP, Product Management, Consumer and SME Lending at Finastra. The panel will discuss how technology is integral to a financial institution's loan portfolio growth strategy including:
Process improvements that improve the customer experience.
How connecting to the larger ecosystem, working with other providers/partners, opens the door for larger growth.