The Inevitable Journey to the Cloud in Banking: The Perception and the Realities - Understanding the Cloud and Platforms for Community Banks and Credit Unions Leaders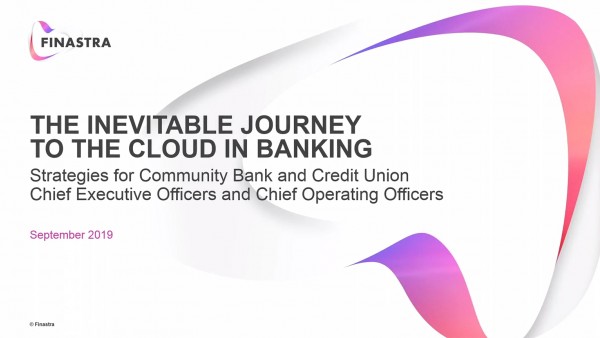 As the overall business leader for your financial institutions you will help to guide the strategic direction and future success of your organization. The changing requirements of banking customers and credit union members are creating a paradigm shift to drive the adoption of banking in the cloud to provide more flexibility and better user-friendly experiences.
Understanding and accepting this change by aligning your organization's culture and resources are imperative to not only growth, but survival in an ever-consolidating market. There may be objections or challenges on your journey to the cloud, but this webinar is specifically geared to address those issues and tackle them head on.
In this webinar exclusively for business leaders in community banks and credit unions, hear from industry leaders Ron Shevlin (Cornerstone Advisors), Tom Feher (Microsoft) and Mike Dionne (Finastra) as they discuss:
Defining the cloud from the organizational leadership perspective
Aligning executive team for cultural shift
Establishing a clear strategy for growth