The Inevitable Journey to the Cloud in Banking: Strategies for Community Bank and Credit Union IT Leaders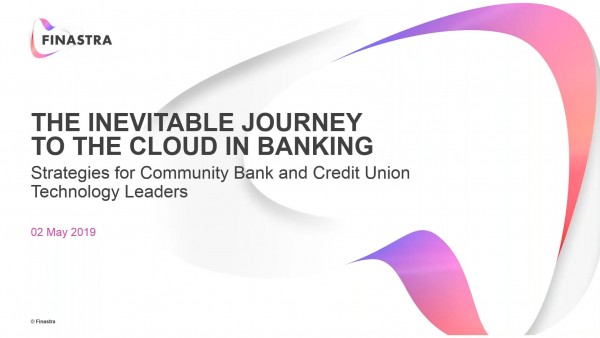 As the technology leader, CIOs and CTOs will help to guide the direction and future success of their organization. The changing requirements of banking customers and credit union members are creating a paradigm shift from in-branch relationship banking to banking online from any device, often without any initial personal interaction. Understanding and accepting this change and doing your part in aligning your organization's capabilities to support these requirements is imperative to not only growth, but survival in an ever-consolidating financial landscape. There will undoubtably be objections or challenges on the journey to the cloud, but understanding them in order to address those issues will allow you to tackle them head on.
In this webinar exclusively for tech leaders in community banks and credit unions, here from industry leaders Microsoft, Cornerstone Advisory, and Finastra.
What We'll Discuss:
Defining the cloud from the IT professional's perspective
Engaging the community bank or credit union CEO/COO in the cloud discussion
The reality of costs, resources, security and speed of the cloud
Mitigation strategies and approaches
Live poll: See where you stand in cloud adaptation compared to industry peers