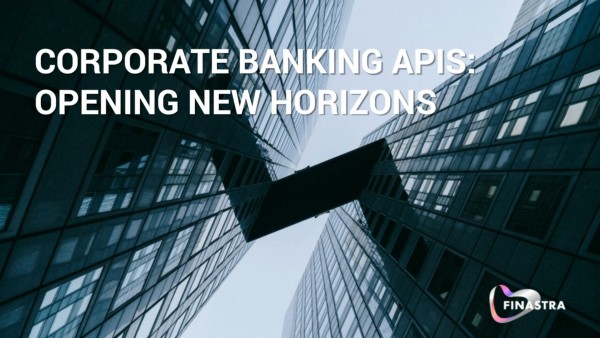 With an estimated global opportunity of $1 trillion in total economic profit*, it is no surprise that open banking and APIs have captured attentions. Although much of the conversation has focused on developments and use cases in the retail context, the reality is that corporate banking will benefit most from greater connectivity and open innovation.
But: What? Why? When? Where?
Watch the recorded webinar where you will explore the fundamentals of APIs and why open corporate banking is the next frontier. Explore the adoption of Open Banking across the world, as well as the opportunities APIs can offer corporate banks.
Our industry experts: Huw Davies, open banking & CEO Frontfoot; Rajeev Nair, Managing Director, Accenture, and Tim Tyler, Senior Industry Principal at Finastra, delve into:
Developments in technology and why the time is now
The different types of APIs that exist in the corporate banking ecosystem;
From the core to client: how APIs fit within the structure of a corporate bank
A strategic outlook on prioritizing the APIs that will have the greatest impact on your business and align to your overall strategy
Our experts also discuss what banks need to think about next to start on their journey to becoming a platform player.
*McKinsey & Company What it really takes to capture the value of APIs
Speakers:
Rachel Cresswell
Chief of Staff, Corporate Banking
Finastra
Rachel has worked in financial services for over 10 years, starting her career at Barclays on the graduate scheme, initially working in a relationship team where she supported a portfolio of corporate clients. She then moved into Marketing and carried out a number of roles across industry, product and global marketing, creating strategic plans covering events, sponsorships, collateral, social media and thought leadership. Rachel joined Finastra in October 2018, looking after sales enablement for Connected Corporate Banking. As Chief of Staff, she now looks after comms, engagement and strategic initiatives for Corporate Banking.
Rajeev Nair
Managing Director - Financial Services Industry Practice
Accenture Technology
Leading Financial Services Industry practice in Accenture Technology at Advanced Technology Centre in India. Focus on Industry differentiation, capability and offerings across Banking, Insurance and Capital Markets. Enable Sales, Solution & Delivery with domain centric capabilities to bring in client focused offerings & enablers for achieving sustainable advantage for clientele.
Experience in banking along with core banking product management exposure focused on Payments Module spanning across various global schemes in interbank space. More than 20 years of professional experience, instrumental in enhancing leading global core banking product, exposed to all growth market payment schemes and value added payment service offerings from banks.
Huw Davies
Open banking & CEO
Frontfoot
Huw has over 24 years in the payments and financial services industry. He brings deep expertise in open banking and payments and has led the delivery of transformational go to market strategies at both major corporations and startups. Through Ozone API Huw and the team are on a mission to accelerate standards based open banking around the globe. In addition he is the Ecosystem Development Director at OBIE, where he leads efforts to grow the ecosystem, drive adoption and usage and develop the market. Prior to this Huw has undertaken exec roles at Token (Chief Commercial Officer), HSBC (as Global Head of Payments), MasterCard (as Head of Emerging Payments) and Barclays. Huw also sits on the Advisory Board for the Emerging Payments Association.
Tim Tyler
Senior Industry Principal, Corporate Banking
Finastra
With a history of innovation in financial services, Tim was most recently responsible for combining both his technical and business background to deliver the first release of Finastra's Corporate Banking platform. To prove the value of the platform, Tim moved from his product management role in the R&D organization to solution consulting, and now acts as a global industry principal, working closely with banks and partners across the world, and across lines of business bringing a holistic view to cash and liquidity management, trade finance, supply chain finance, commercial lending, payments, treasury, revenue management, digital channels and analytics. Tim is also the named inventor on the patent application for the use of location aggregation in transaction approval processes.