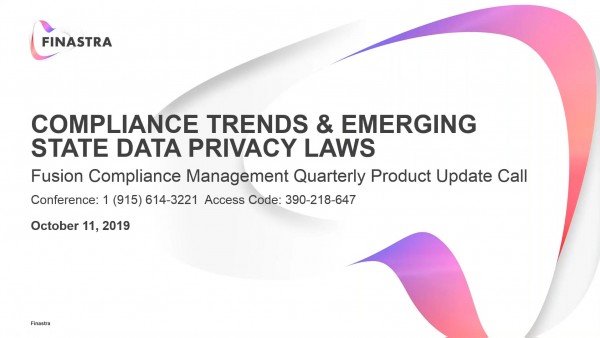 In this webinar we discussed current compliance and enforcement action trends and focused on the incoming wave of state data privacy laws, with the California Consumer Privacy Act (CCPA) leading the way. The CCPA data privacy law goes into effect on January 1, 2020 and impacts institutions doing business in California, regardless of where those businesses are located.
The CCPA provides consumers with additional rights and protections around their personal information. These new rights will drive new business requirements at your financial institution. Our compliance experts  discussed:
State compliance and federal enforcement action trends
A brief overview of the CCPA's requirements
How your institution can prepare now
New Fusion Compliance Management updates to help manage implementation, annual assessments and consumer requests under the new requirements
Other states considering implementing privacy laws like California: Hawaii, Maryland, Massachusetts, Michigan, Nevada, New Mexico, New Jersey, New York, North Dakota, Rhode Island, Texas and Washington.
This webinar is part of the Fusion Compliance Management Product Update Call. Fusion Compliance Management is a cloud-based compliance risk and change management system that automates your compliance program, provides our industry-leading compliance content and supports managed federal and state compliance tracking, so financial institutions can stay ahead of the regulatory curve and make better risk-based decisions.
MEET OUR SPEAKERS
Geoffrey Schroder
Principal Compliance Counsel, Finastra
Geoff joined Finastra in March 2010 and provides legal compliance support for multiple Finastra solutions, including consumer and commercial loan origination systems, loan servicing and core banking products. Prior to joining Finastra, Geoff worked as an attorney in private practice representing Colorado lenders on complex litigation and regulatory compliance matters. Geoff also has prior in-house counsel experience having worked as Associate General Counsel and Director of Compliance for a Colorado-based mortgage lender. He previously served on the Mortgage Broker Rulemaking Taskforce advising the Colorado Division of Real Estate on critical legal reforms impacting Colorado loan originators and served as Supervisory Committee chairman for a Colorado-based credit union for more than eight years. Geoff received his Juris Doctorate from the University of Denver, Sturm College of Law, and an honors Bachelor of Arts degree in International Studies from York University (Glendon college) in Toronto, Canada. Geoffrey is a member of the Denver, Colorado and American Bar Associations.
        
 
David Boulanger
Principal Product Manager, Lending – Compliance & Consumer, Finastra
David joined Finastra as a compliance attorney in 2013. Currently, he leads the development of Fusion Compliance Management, Finastra's cloud-based regulatory compliance risk management solution. In 2018, David was awarded the inaugural Finastra CEO Innovation award for providing RegTech innovation with this new product. Previously, David was in private practice where he represented financial services institutions in litigated matters. David received his J.D. from Willamette University College of Law, where he was an associate editor on law review. David has been a member of the Oregon State Bar since 2009.
---
You might also be interested in