Reimagining customer experience with AI-Powered Intelligent Document Processing
Introduction
For Global Banking, McKinsey estimates that AI technologies could potentially deliver up to $1 trillion of additional value each year. It is imperative for Banks, more so than ever, that they must become "AI-first" institutions by adopting AI technologies as the foundation to uncover new opportunities, especially to deliver distinctive customer and employee experiences.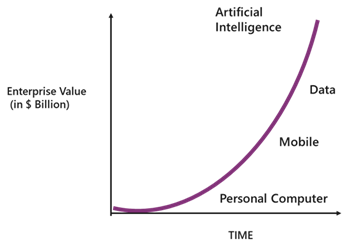 Banks, however, have struggled to move beyond experimentation across the organization. While there are many reasons, the prominent one is inflexible core and siloed data systems. Setting up a system that is AI-ready means spending millions on technology refresh, which is difficult for many banks, especially the small and medium ones.
For all these technology investments starved banks, Intelligent Document (or Image) Processing (IDP) technology-led solutions, can help jumpstart AI initiatives as they do not necessarily require a large technology refresh program and can be embedded seamlessly into the existing technology landscape.
In this article, we attempt to ascertain how banks can leverage IDP solutions to help build unique customer and employee experiences, while reaping in benefits of low operations spending, due to automation.
The problem of unstructured data sources
It is a well-known fact that delivering a positive customer experience is integral to the success of any organization. According to a Deloitte study, customers that enjoy a positive experience are likely to spend 140% more than clients that reported a negative experience. Banks especially, given all the competition they are facing with Fintech and tech behemoths, need to work hard to re-imagine and build distinctive customer experiences.
It is also well known that 80% of business information crucial for many business processes is unstructured in the form of documents, images, emails, spreadsheets, etc.  Banks have used a combination of Manual and Optical character recognition (OCR) led approaches to solve this problem. While manual processes are slow and error-prone, OCR solutions, while being highly useful at capturing text, do not provide any context to the data or analysis of the document. Ultimately, most OCR applications offer an incomplete solution that requires hours of employee time to perform analysis.
What is IDP and how it helps to enhance customer experience?
IDP is the use of Machine Learning, Computer Vision, and Natural Language Processing based techniques to train a computer to simulate a human subject matter expert's review of a set of documents.  The technology can accurately extract information and insights contained in the documents as well as categorize and organize the documents themselves.
IDP technology leads to improving the customer experience when it is based on data and information. For instance, when a bank uses an IDP tool, it can quickly access customer data to process loan requests. The bank will immediately see improved satisfaction as the customer will not have to waste hours filling out stacks of paperwork, only to wait weeks for a response, and can instead receive it almost immediately.
Use Cases of IDP in banking
Let's delve deeper into the loan application process to illustrate the benefits of IDP Solutions like IN-D PayGen and how it improves the typical loan application process, which has three steps Document Submission, Identity Verification, and Underwriting.
Document Submission – Instead of asking the customer to fill up an application form, banks can do the same with information captured from the customer-submitted IDs to the pre-fill application form. In this, the bank user need not cross-check the information unless the customer has made changes. Additionally, ID quality check, ID Type check, and PII redaction can all be done as the solution.
Identity Verification – The customer submits a selfie, signature, Liveness video feed, and more to perform automated identity verification in seconds. Bank users only interfere if the solution prompts them to intervene
Underwriting – Customers submit bank statements, salary slips, etc. IN-D performs all document sufficiency checks and tampering checks and extracts and feeds data to the banks' underwriting system. Additionally, IN-D performs consistency checks between documents including pre-submitted IDs.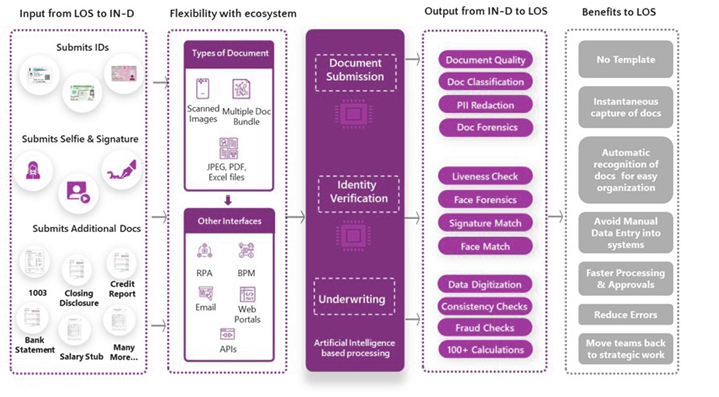 IDP technology can capture and extract data from a wide array of sources, including:
Government IDs (passports, driving licenses, etc)
Credit Card and Bank Statements
Invoices
Loan and mortgage documents
Tax Returns
Lease Agreements
Letter of Credit
Swift Messages
Payment Mandate
What Next? App-fiction of IDP Solutions: Making AI more Accessible
Everest Group, a leading technology research company, in their research published in June 2019 has highlighted that these "out-of-the-box" pre-trained solutions for a particular use case will become more prevalent, thereby leading the charge in AI adoption.  
These pre-trained solutions are designed to enable developers, and banks (also end-users aided by RPA/Low Code technologies) to quickly build and deploy complex business applications based on their needs.  To end-users, these business applications look like normal software but with a fully functioning pre-built AI model (sometimes more than one) at the core. And as shown in the example above these pre-built solutions can be easily integrated into any existing workflow and infuse intelligence into them without the development effort required to train the traditional AI Models, saving significant costs and time for users. In a way, these IDP solutions platforms like IN-D PayGen are creating AI solutions making them more accessible.
If you want to learn more about these solutions visit the FusionFabric.cloud store and read more about IN-D PayGen.
Get in touch
We are here to help your business reach its goals
Contact us