Investment management: ready for the cloud?
Opportunity and challenge
For much of the financial world, the cloud vs. on-premise discussion is over. Now that it offers the performance the sector needs, cloud's advantages as a platform for investment management are clear. Even considering implementation, customization and training, cloud offers lower TCO than on-premise solutions, where owning and managing applications can cost significantly more than software license fees. It makes for more agile and scalable operations that can innovate more easily, and frees firms up to focus on strategic business priorities.
There are, of course, concerns around security, operational resilience and regulation in relation to cloud. These are areas of particular focus at a time when businesses are stressing cloud infrastructures with the current move to remote working. And although, as Microsoft CEO Satya Nadella has said, "we've seen two years' worth of digital transformation in two months," the infrastructure has held up well so far. However, legislators and regulators including the EU Commission, UK PRA and FCA, and ESMA all have initiatives under way focused on operational risk and resilience. Nonetheless, cloud is a relatively mature technology with a 20-year heritage, and there are many experienced partners in the market ready to help financial firms mitigate risks.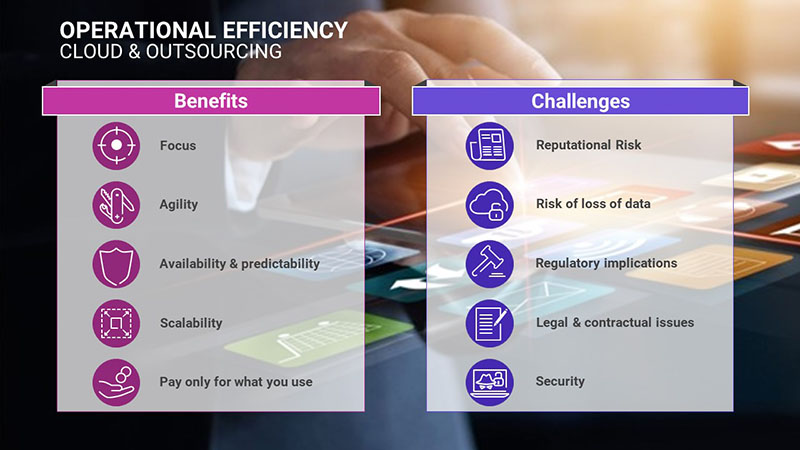 The benefits for investment management
Cloud offers benefits across investment management firms:
•    Portfolio and risk managers. The computing power and scalability of cloud deployments makes for faster analytics and reporting. Containerized applications can be updated and enhanced more quickly and easily, giving faster access to innovation, for example new asset classes and analytics. They also allow for easier compliance with fast-moving regulations, and market-standard tools ensure business continuity plans are in step with what regulators require.
•    CEOs and CTOs. Pay-as-you-go models can reduce total cost of ownership and maximize the value of cloud solutions.
•    Firm-wide. Everyone in investment management firms benefits from easy, secure access to solutions, plus the potential for innovation that comes with more data and computing power.
Hot topic for the buy-side
Cloud is proving a hot topic in investment management. At a 2020 customer advisory board (CAB) for Fusion Invest, Finastra's flagship solution for portfolio and investment managers, customers reported that two key drivers were attracting them to cloud.
Scalability was the top driver — in particular the ability to add new services faster while assuring continuity. Predictability (in everything from deployment and upgrades to costs) was the second biggest driver. It's no surprise that we found 80% of 2020 Fusion Invest CAB attendees planning a move to the cloud.
What's holding firms back?
Despite the clear advantages of cloud adoption, several factors are slowing firms' transition plans. Firstly, as with any major IT infrastructure project, firms need to ensure that any changes will be seamless, with minimal disruption to the business. They will also need to ensure that they have access to the support personnel they need to carry out a successful transition, both during the project and after implementation.
Other factors are security – which is of paramount concern to asset managers – and data residency (the knowledge of where data is stored). Although cloud providers have proved their high levels of security and resilience, details of how to establish a secure cloud-based working environment still need to be worked out before transition.   
Finastra's cloud partnership with Microsoft
In some cases, these barriers to cloud adoption have been resolved. Microsoft's Azure cloud service, for example, offers the seamless transition and levels of security required by investment management firms.
With $15bn of investment in cloud infrastructure and an annual commitment to $1bn of security expenditure, Microsoft is a strong partner for Finastra and our investment management customers.
As Celent points out in its Cloud in Capital Markets report:
"Unlike most capital-constrained buy side firms, cloud providers have spent billions of dollars on measures to improve security, scalability, multijurisdictional support, and resilience… Cloud providers offer not only a highly secure infrastructure, but also active monitoring services to further ensure the integrity of the deployment and data."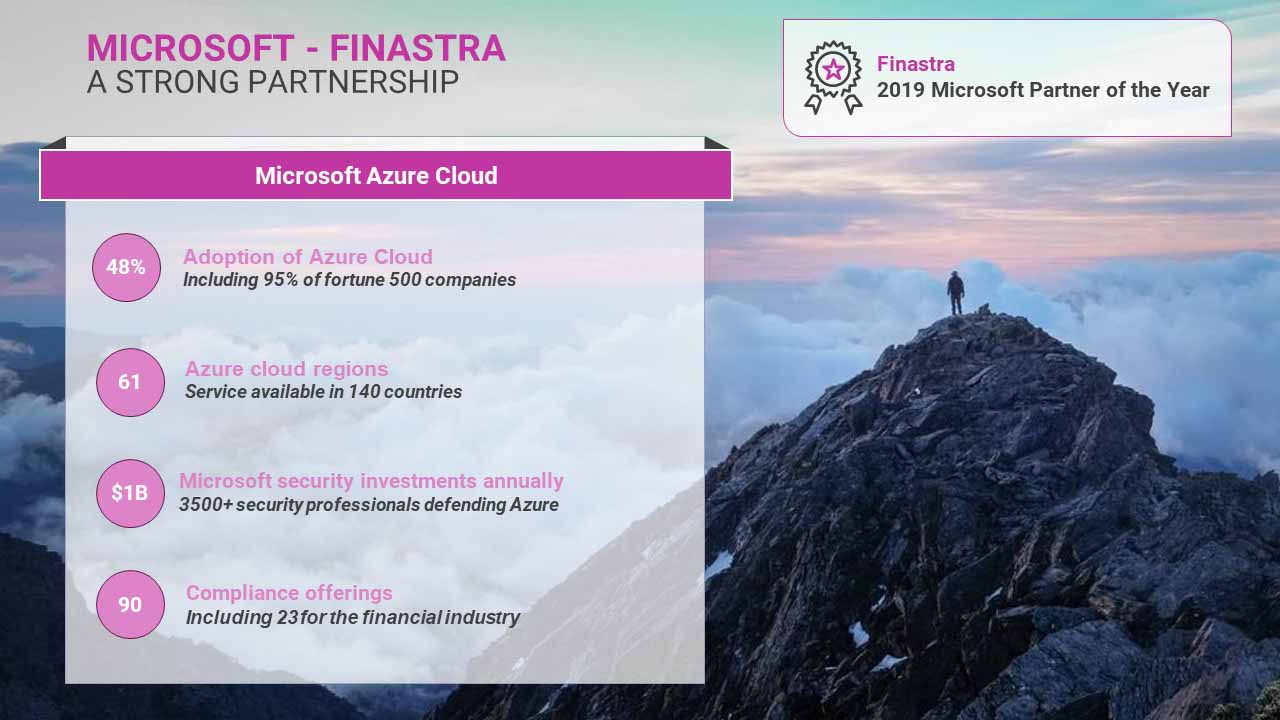 Today, the latest version of Fusion Invest can be seamlessly hosted on Microsoft Azure, featuring:
Delivery of containerized Fusion Invest servers for a standard and isolated deployment
Out-of-the-box connection to Azure Active Directory using the OpenID protocol
Out-of-the box integration of Fusion Invest business metrics with Azure Monitoring
This means that Fusion Invest customers planning their cloud move can start now. Although it is formally validated on Azure only for the time being, Fusion Invest can be leveraged in any public, private cloud or hybrid cloud environment.
A route to competitive advantage
Many businesses have for some time used private clouds to deploy Fusion Invest and some have delegated servicing to Finastra or partners. As cloud capabilities and market expectations evolve, we will be making available a cloud managed service offering for new and existing clients that can be rolled out quickly and cost-effectively.
With margins eroding in the investment management industry, cloud and outsourcing offers firms a route to achieve operational excellence and optimize cost. Because they place less burden on internal technology resources, cloud and managed service deployments can reduce IT costs and free up IT resource to focus on projects that add value and competitive advantage.
For more information on Fusion Invest, and how it can help you manage market volatility, contact us today.
Get in touch
We are here to help your business reach its goals
Contact us