The great resignation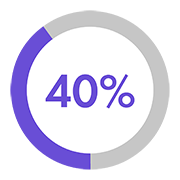 of employees across the globe said they are at least somewhat likely to quit in the next three to six months
Source: Microsoft Work Trend Index
Learning has a particularly significant role in both building the employee value proposition and enabling its execution. What are the challenges currently faced?

$350b
is spent globally on training, but organizations are not spending their money effectively

80%
of skills are lost within one week if unused post training

125
hours spent to create one hour of compelling eLearning, restricting ROI
Changing employee expectations are creating high attrition rates
The demand for attracting and retaining talent is disrupting HR and L&D practices. With career development identified as one of the top factors that inspires loyalty and commitment amongst employees, learn how you can tie training to your employees' career progression.
Four recommendations on what to look for in a modern learning and development platform
Employers everywhere are experiencing higher than average turnover rates in their workforces, so what can they do to stem the tide?
In this white paper we explore the pitfalls of common approaches to training and recommendations on how to align your training solutions to your business strategy.
"Learning can unlock new labour opportunities, prepare workers to thrive with new capabilities and empower companies to succeed in a new reality"
– Accenture
How can e-learning empower your people to maximize use of your Finastra solutions?
Finastra Knowledge Services allows flexible learning, anytime, anywhere with comprehensive, easy-to-follow courses that you can keep track of – monitoring employee progress and results.
How can you empower, engage and retain your employees through training?

Contact our experts.