Geopolitical uncertainties, market dynamics, increasing compliance, and digitization are transforming the trade and supply chain finance landscape for corporate banks. New business models become the focus as banks compete to stay relevant and future-proof their international trade finance business.
Whether to support the complexities of large corporates, or the simplicity demanded by SMEs, Fusion Trade Innovation and Supply Chain Finance support the connected, round-the-clock working capital needs of your customers. Designed for success in transaction banking, our trade finance solutions help you adapt, with intelligence, insight, and innovation at the core, in an open ecosystem:
Remain Relevant in International Trade Finance. A trade services platform to evolve with compliance, client and competitive demands.
Be Open and Connected in the New Future of Trade. Increase relevance and automate compliance with a future-proof trade services platform in line with the latest SWIFT message types for a seamless corporate experience.
Embrace Intelligent Trade for Smarter Growth. Advanced STP, digitization and data analytics to seize growth in guarantees and open account business enabled by AI and machine learning.
Future-Proof Your International Trade Business. One platform to support everything from blockchain or distributed ledger technology to big data; cloud to open APIs and to cultivate emerging standards for digital trade.
Join a Community of 200 Trade Finance Banks on a Proven Platform for Global Trade. Connected solutions for corporate clients that are pre-integrated with our connected corporate banking suite, enabling institutions to redesign their operating model across the corporate or commercial bank.
---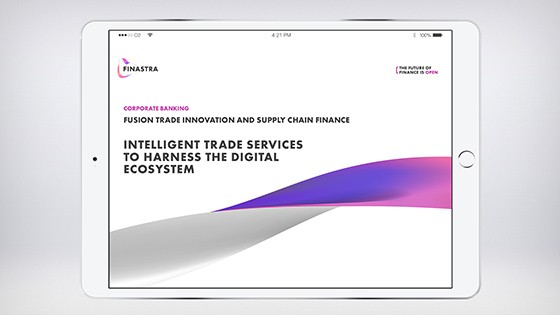 Fusion Trade Innovation and Supply Chain Finance: Intelligent Trade Services to Harness the Digital Ecosystem
---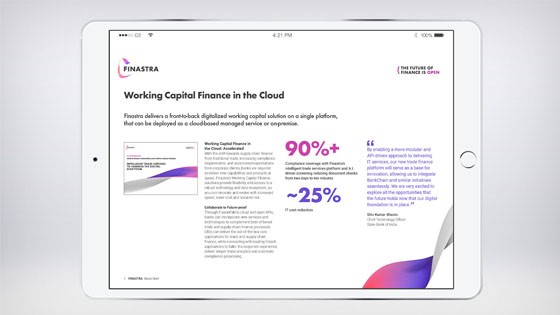 Working Capital Finance in the Cloud: Learn more about our front-to-back digitalized working capital solution
---
---
Our SWIFT certified Fusion Trade Innovation software drives revenue growth through margin improvement, market leading service and product innovation.
Finastra's Supply Chain management software links buyers, sellers, and finance providers to facilitate financing or early payment of sellers during the life cycle of the open account trade.
Do you want to know more about our solutions?