Finastra's open developer platform and marketplace unlocks innovation in financial services
Finastra is changing the way modern banking software is built and distributed. With FusionFabric.cloud, our open developer platform, we are championing "innovation through collaboration". By opening up our core systems in Retail Banking, Payments, Lending, Corporate Banking and Treasury & Capital Markets with open APIs, we enable financial institutions and other third parties to develop applications that work with them.
Finastra has evolved from packaged software to micro-services, open APIs and continuous delivery. All of this is made possible with our app developer platform and marketplace.
Now, innovative applications can be developed quickly and at low cost. Financial institutions can transform their customer propositions and drive efficiencies, while fintechs and developers can accelerate new market opportunities. FusionFabric.cloud will help transform the financial services industry in the same way that mobile app stores have transformed our everyday lives.
---
---
PLATFORM ECOSYSTEM
FusionFabric.cloud unlocks innovation by fostering open collaboration within an ecosystem of development partners. It opens up Finastra's core systems via APIs to all players in the financial services ecosystem – banks, fintechs, system integrators, independent developers, consultants and students.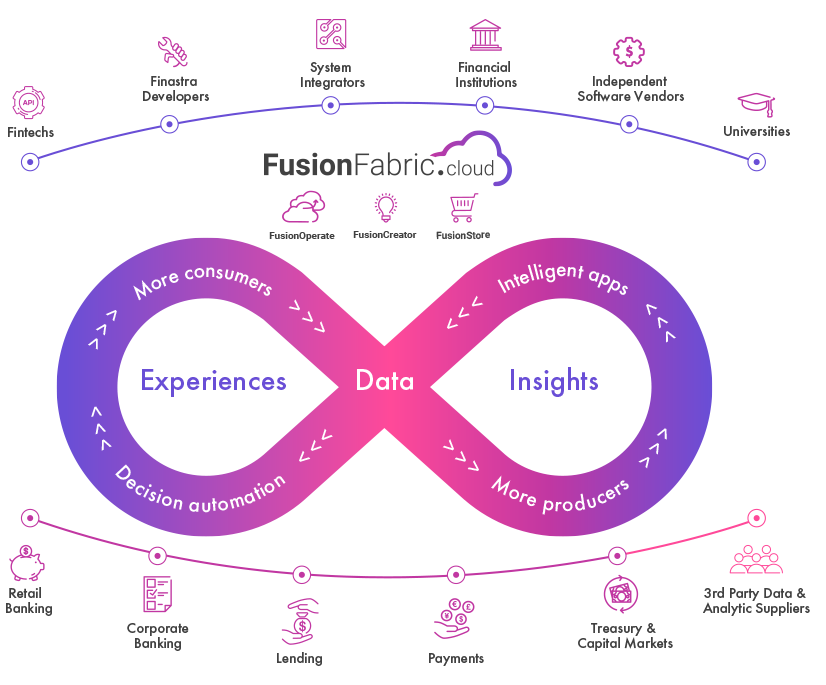 ---
CREATING AN APP
Are you a developer or fintech looking to disrupt the market? Or a financial institution looking to build new apps easily? Access APIs from Finastra's core systems to start building innovative apps or integrate existing apps to expand your reach to financial institutions.
---
CONSUMING AN APP
Are you a financial institution looking to stay up to date with the latest innovations? Benefit from the new solutions in the ecosystem by consuming apps which connect to your Finastra core systems via FusionFabric.cloud.