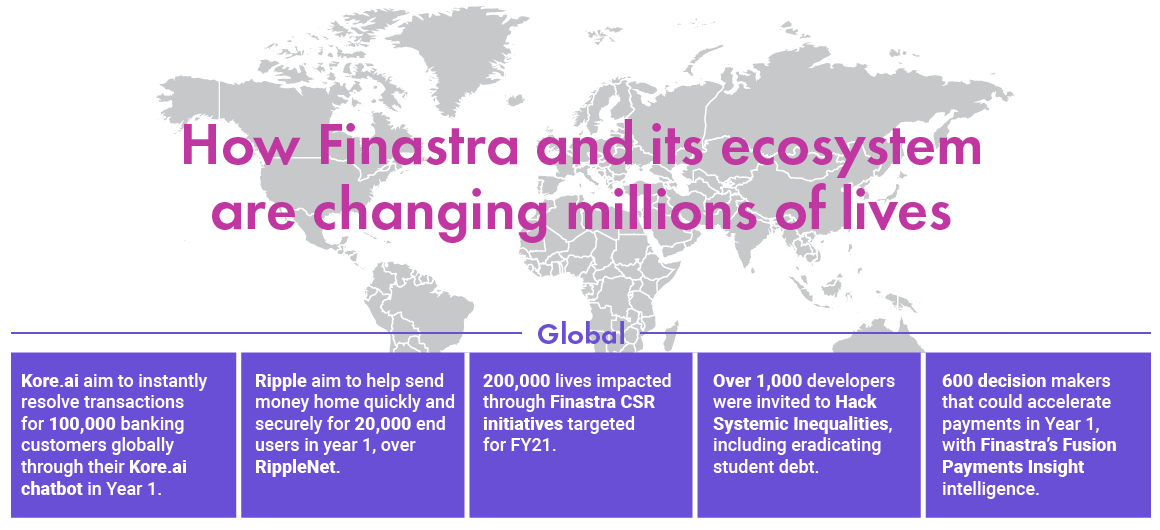 1.3m mortgages rejected for African Americans and Latinos that could be checked for bias by FinEqual
1m+ people able to receive paychecks during the crisis, through the $6bn in loans Finastra facilitated
125,000 new account holders can access tailored banking experiences, including multiple languages, faster money movement, and the innovations of Fusion Digital Banking
945,000 credit union & community banking customers that could get continuous support from 6,300 employees with Fusion Phoenix in the cloud
59,000+ lives impacted through Finastra CSR initiatives in FY20
50,000 jobs we aim to create with our Trust Machine pilot in Kenya
4m+ unbanked our customer ZB Financial Holdings aims to bring into financial services in Zimbabwe by 2025
$75m COVID-19 relief funds distributed by our customer Ecobank using Fusion Cash Management
420,000 account holders that could receive a more personalized relationship with their bank, through Fusion Analytics
43,000+ lives impacted through Finastra CSR initiatives in FY20
1m+ unbanked tonik aims to bring to financial services within five years
5,000 Indonesian SMEs that we, with Mastercard and ADB, want to digitize supply chains for, by Q1 2021
100,000 unbanked Bangladeshis our customer IFIC aims to bring to financial visibility within 2 years
32,000+ lives impacted through Finastra CSR initiatives in FY20 year
Change the way they pay
Connecting financial institutions and communities around the world to modern payment solutions.

Transformational treasury for growth
Fuel strong and growing economies through an innovative approach to the modern bank treasury, no matter your bank size.


A digital connection to innovation
Making innovation a reality by connecting people, financial institutions and businesses to market leading digital solutions.
We're successful together
Your success is at the heart of what we do, through our strategic services partnerships, we succeed when you do.

Experience the technology that is accelerating through change and connecting global communities