The journey to digital transformation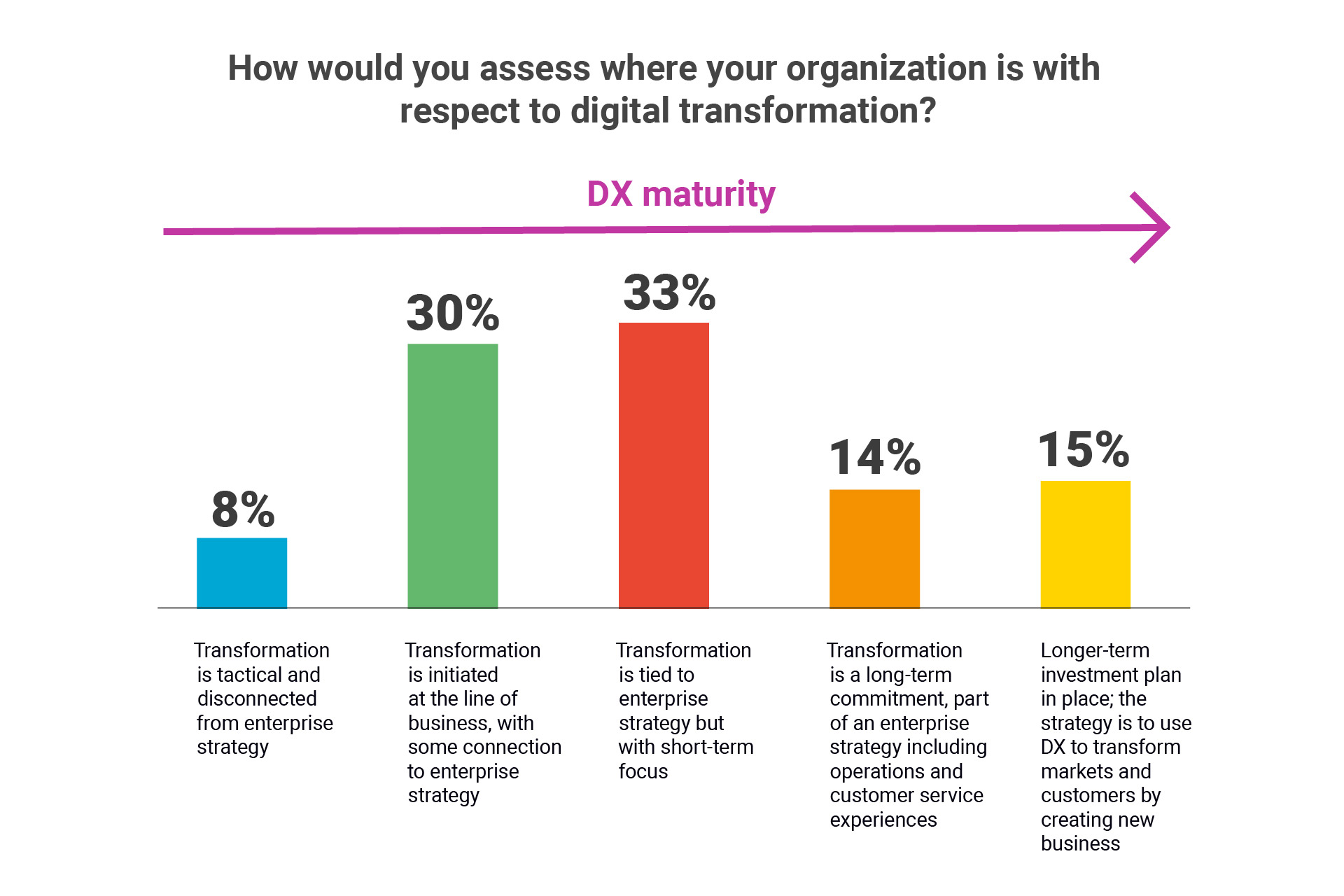 Source: Future Enterprise Resilience and Spending Survey, IDC, January 2022
The roadmap to a successful digital transformation
This IDC Infobrief, sponsored by Finastra, explores digital transformation maturity and the need for IT executives to transition from a builder to a conductor. The research also includes insights from bank executives on how leveraging new outcome-first service delivery models, such as a software-led managed service, can accelerate the return to innovation.
The IT executive's shift from builder to conductor

Builder
Buys technology and leads software development team to create customized applications in-house, limiting pace

Conductor
Enabler and orchestrator, leveraging external partners and provisioning platforms to accelerate innovation
The top four roadblocks to modernization
IDC's interviews with banking executives around the world indicated that the complexity of existing platforms and software, rise of the emerging digital infrastructure, need to address security and compliance, and lack of skills in new technologies were holding organizations up from achieving their transformation goals.
To transition successfully, banks need services partners who can:

Step 1
Map out the transformation journey

Step 2
Align capabilities

Step 3
Create and execute on an operational blueprint to drive agility
IDC Infobrief: New services models to accelerate innovation in banking
Appetite for digital transformation clearly exists, and banks need to establish the route forward with outcome-first delivery models and a trusted partner for a successful transition.
Find out how you can partner for success by accessing the full report.
How can Finastra support your digital transformation journey?
Finastra Preferred Active Support
Build a foundation for change. Finastra Preferred Active Support is a proactive, pre-packaged, subscription-based model for customers requiring additional and consistent support across their software lifecycle.
Finastra Simplify & Standardize Services
We deliver progressive modernization of your Finastra solution through delivering a maintained, shared backlog of sized and actionable improvements. Finastra experts execute ongoing improvements through an agreed succession of sprints, leveraging solution specific IP and tooling.
Finastra Managed Services
Built on market leading technology, extensive IP and accelerators, we offer a complete and flexible software-led managed services offering, designed to achieve zero-defect software.
Let's embark on your digital transformation journey together.
We'd like to learn more about your goals and challenges, and share the value of embracing our high-value services to help accelerate this journey