From humble beginnings, credit unions have come a long way.
As major – and growing – players in the personal and commercial financial markets, credit unions are blending together more than 100 years of community involvement with modern technology. Once a source for personal loans, they now are cementing themselves as a cornerstone in mortgages, business banking, commercial loans, digital and mobile banking, financial education, and more.
Building the Business – Where Credit Unions Stand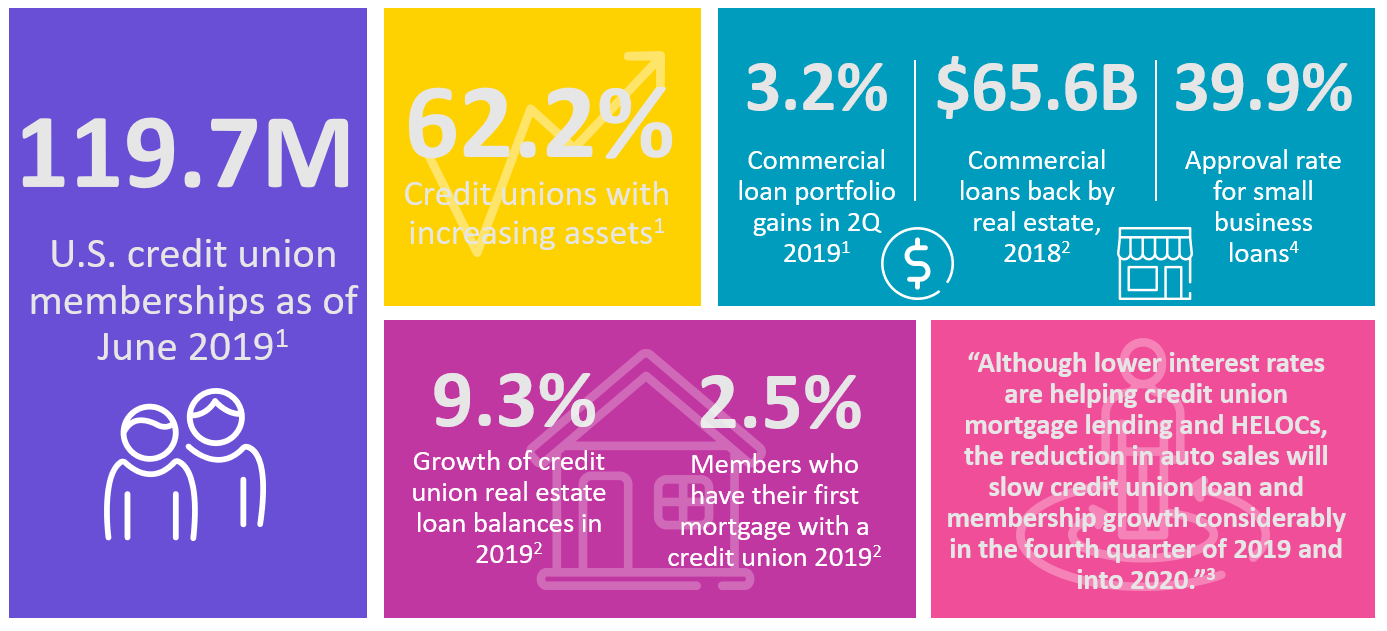 Sources:
1. "U.S. Credit Union Profile, Mid Year 2019"
2. "CREDIT UNION TRENDS REPORT"
3. "CUNA Economic and Credit Union Forecast Fourth Quarter 2019"
4. "Small Business Lending Statistics and Trends (2020)"
STATE OF THE (CREDIT) UNION
A Roundtable Series of Topical Discussions Led by Credit Unions Leaders
Credit unions are at the pulse of America, and day-to-day business comes with many responsibilities, challenges, and opportunities. State of the (Credit) Union is a series of roundtable discussions led by credit union leaders, for credit union leaders, and hosted by Finastra. Each session covers one topic that allows you and your team to hear from peers about the latest trends in the industry.
Finastra Solutions for Credit Unions
Digital Banking
Fusion Digital Banking, powered by Malauzai, provides a highly personalized, relevant digital business experience that is consistent across all channels.
---
Core Banking System
Fusion Phoenix is a comprehensive, dynamic cornerstone that goes beyond what the traditional credit union core provides.
---
Business Intelligence and Analytics
Fusion Analytics digs deep to provide insights where the best revenue opportunities lie.
---
Consumer Lending and Mortgage
Total Mortgage provides your community credit union with an end-to-end lending experience that elevates the borrower experience and keeps your back office running efficiently.
---
Consumer Payments
Finastra's consumer payments solutions allows you to deliver leading-edge digital payment, remote deposit capture and ATM/credit/debit card technologies.
---
Commercial Lending
Provide your team intuitive lending solutions that helps your credit union mitigate risks, increase approvals and meet borrower demands.
---
Operations
Be operationally ready with check processing software, check image software, teller transaction solutions, and enterprise content management.
With North American headquarters based in Lake Mary, Florida, Finastra has a solid and deep presence in community markets.
Our clients in the region benefit from dedicated employees located across the country to provide community banks and credit unions with innovative, proven financial software solutions. The region's 4,200+ clients can be found far and wide, from Key West, Florida to Hobbs, New Mexico; Willards, Maryland to Honolulu, Hawaii; Fremont, Ohio to Fort Collins, Colorado; and everywhere in between.
Do you want to know more about our solutions?