26 – 27 MARCH 2019, SINGAPORE
Now in its fourth year, the Finastra Universe conference is a global executive event series focusing on fintech and the future of financial services globally, bringing together over 400 leaders and experts across Asia Pacific financial sector.
The theme for 2019 Finastra Universe will be Collaborate to Innovate, focusing on the new shape of disruption: how academia, Fintech, software and banks are collaborating as one, to design the future of banking.
Click on the video to watch a recap of 2018 Finastra Universe in Singapore.
---
Why Attend the Finastra Universe?
The conference will help you to:
Develop your competitive strategy by exploring the long- and short-term trends shaping the future of technology in banking
Create a tailored experience to get the highest possible return for your time out of the office, with four streams covering challenges specific to Retail Banking, Payments, Corporate Banking as well as Treasury & Capital Markets
Gain insight into the latest technologies in the global banking market and understand how they will impact you, your competition and your customers
Explore how to build new internal efficiencies and improve customer experience with sessions dedicated to AI, robotics and automation
Network with your peers, building new connections with the region's technological pioneers and leaders
Fine-tune your digital transformation strategy, building a new business model that puts the customer at the heart of the bank
Snapshot from 2018 Finastra Universe: Singapore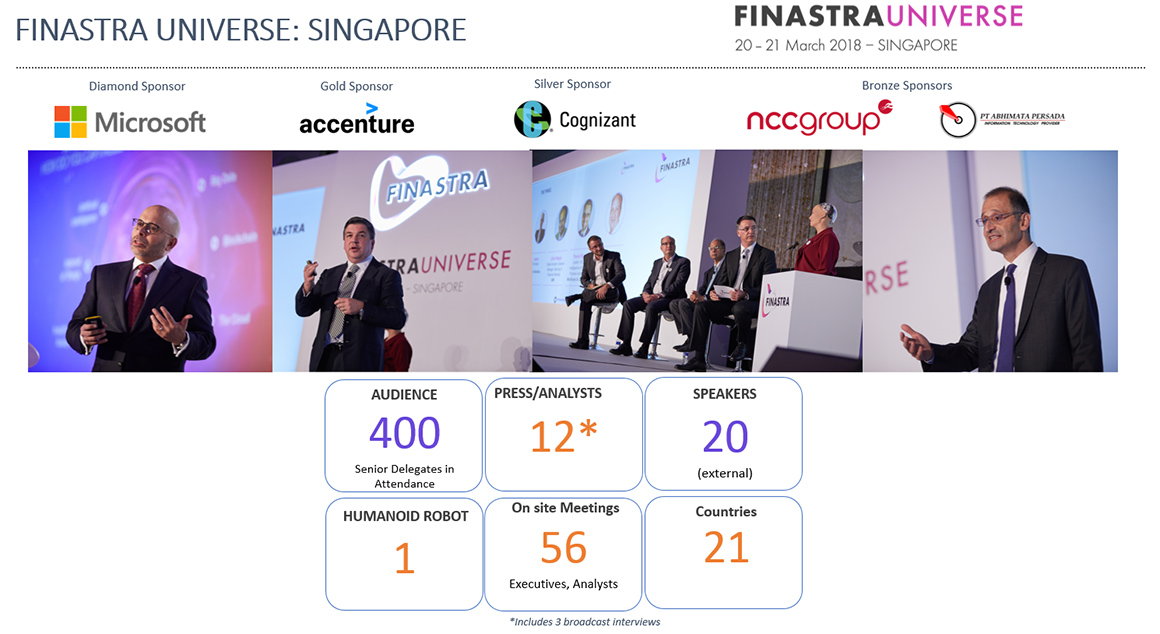 ---
Agenda
Build your experience.
Dedicated agenda streams
Retail Banking
Payments
Corporate Banking
Treasury & Capital Markets
Meet subject matter experts
One-on-one expert meetings
Solution workshops

Tuesday, 26th March 2019:
Partner Day (by invitation-only)
Welcome Reception and Dinner
Wednesday, 27th March 2019: Finastra Universe: Singapore
 
Finastra Universe: Singapore Agenda
See the agenda for this event with information about sessions and speakers.
---
TIME
AGENDA
8:00
Registration and Networking
 
PLENARY
9:00
Welcome to Finastra Universe
APAC Regional Welcome
9:25
Finastra Executive Keynote Address: Powering the Financial Universe
9:50
Keynote panel: Collaborate to Innovate

- One year on… how has the industry responded to Open Banking?
- Can a platform approach foster greater collaboration?
- Examination of real use-cases based on collaborative innovations
10:30
Keynote Session – to be announced
11:00
Networking & Refreshment Coffee Break
 
RETAIL BANKING
PAYMENTS
CORPORATE BANKING
TREASURY & CAPITAL MARKETS
11:30
Vision: Retail Banking in 2021 Unleashing the Potential of Fintech to Transform the Retail Banking Industry

- Explore real APAC use-cases on how a new breed of challengers and fintechs are transforming the industry and how banks can benefit from the innovation
- Open banking – what are the top trends and APIs that are defining the pace of transformation in this region?
Payments Workshop and Executive Meetings
Vision: The Connected Corporate Bank - From Products, to Solutions to Services

- The API revolution: remaining relevant through digital transformation
- Which APIs, services and processes should drive strategy?
- Partnership considerations for the platform of the future: who can deliver the connected platform of the future
Vision: The Future Begins with Capital Markets

- Achieve more with an integrated ecosystem
- Innovate with Open APIs
- Grow with standard processes
- Simplify and accelerate existing processes
12:15
Panel Discussion: Re-imagining Retail Banking to Create Holistic Customer Journeys

- Innovations in data and analytics driving customer experience
- Data, the new currency and how new tech such as AI in helping to manipulate and understand data
- Personalizing the experience
Payments Workshop and Executive Meetings
Panel Discussion: Corporate Banking is Open - Connecting Digital Services

- Insights from the Finastra and Celent Connected Corporate Banking in APAC white paper
- What will corporate bank revenues look like tomorrow?
- How do we create a marketplace for corporate banking services?
- Balancing 'run the bank' and 'grow the bank' demands
Panel Discussion: How Have Different Technologies Fared in Driving Greater Automation in Capital Markets

- AI/Machine Learning for operational efficiency as well as trading/marketmaking
- Robotic Process Automation
- Microservices and APIs
- Smartcontracts & Blockchain
- How successful have these been in driving more efficiency and automation? What does the future hold?
12:45
Networking & Lunch Break
 
RETAIL BANKING
PAYMENTS
CORPORATE BANKING
TREASURY & CAPITAL MARKETS
14:00
Retail Banking Workshop and Executive Meetings
Payments Vision
Panel Session: Achievable Innovations in Lending: Blockchain, Artificial Intelligence and the Future of Lending Technology

- How are banks leveraging the latest technologies to optimize lending operations?
- Are these innovations achievable within your bank?
- How are best-in-class commercial lenders adapting to the evolving preferences of their borrowers?
Panel Discussion: Maximizing Revenue From Your FX Value Chain

- The digitalisation of the FX market
- Providing greater customer satisfaction and retention
- Improving integration and profitability in the value chain
14:30
Retail Banking Workshop and Executive Meetings
Panel Discussion: How innovative payments will transform the new payments ecosystem

- Key trends impacting the Future of Payments in APAC
- Optimising the payments experience: Providing faster, reliable and more connected payment methods
- Leading the transformation of crossborder immediate payments
Panel Discussion: Intelligent Trade Services

- How banks can retain relevance to their clients in the face of increased competition
- Why an ecosystem of value-add services can drive improved trade finance access
- The benefits of a platform approach and open APIs in differentiating on customer experience
Panel Discussion: The Transformation of Treasury/ALM to Deliver Optimized Performance Management

- The impacts of regulation on performance across all lines of businesses
- Is ML/AI mature enough to attack real world challenges of Treasury and Balance Sheet Management?
- Where will this have the most beneficial impact (controlling/limits, front line, strategic planning)?
- What advantages would these bring vs the ubiquitous standard statistics/linear regression?
- New EBA dynamic balance-sheet modelling
15:00
Networking & Refreshment Coffee Break
 
PLENARY
15:30
Keynote Session – to be announced
16:00
Fintech Innovation Showcase

Finastra's Fintech Innovation Forum participants take the stage to demonstrate their latest innovations
17:10
Closing
---
Supported by  

Become a sponsor
Finastra welcomes its strategic partners to benefit from this high-profile platform by unveiling your solutions and joining the conversation. Here's your opportunity to showcase your thought leadership to decision makers from the region's banking fraternity.
Finastra Universe promises to deliver real business value through sponsorship with measurable ROI. Here's how we can help you as our strategic partner:
Align your brand with ours by being face-to-face with new possibilities and greater opportunities
Networking and developing new business with hard-to-reach decision makers and business leaders from the banking fraternity
Promoting your participation across high-level and multiple media channels across the world
If you are interested in sponsoring and partnering with us at the Finastra Universe and would like more information on the opportunities and packages available, contact: daniel.wong@finastra.com
Finastra Universe Partner Day
We are delighted to announce the return of our Finastra Universe Singapore Partner Day.
Join us on Tuesday 26th March 2019 for our dedicated partner event, which promises to be an interactive and inspiring session. You will have the opportunity to engage with our senior leadership team, hear the latest around the strategic direction of our global ecosystem and discuss our regional focus, key GTM activities and innovation and technology updates.
At-a-Glance: Tuesday, 26th March 2019
| | |
| --- | --- |
| 12:00 P.M. | Partner Welcome Lunch |
| 14:00 P.M. | Partner Day Event |