About the Event
Now in its fifth year, the Finastra Universe London conference is part of a global executive event series, focusing on fintech and the future of financial services. Join us to explore the growing impact of technology on the banking sector and address the challenges facing banks as they accelerate their transformation into strategically focused, technologically adept and operationally agile organizations.
This year, we are looking forward to welcoming over 300 senior executives from across the UK, Ireland, the Nordics and Israel to our London event. We will be providing insights on the developing future of financial services and how open platforms, cloud adoption, artificial intelligence, payments and other technologies are revolutionizing the banking landscape. We will support banks to address and overcome challenges caused by a dynamic market with more agility, innovation, integration and security.
---
Why Attend the Finastra Universe?
To further develop your digital transformation and competitive strategy that drives a business model that gives your customers a greater value
Create a tailored experience to get the highest possible return for your time out of the office - immerse yourself in the innovations of tomorrow from a selection of insightful Open Forum sessions covering Retail Banking, Payments, Lending, Strategic Treasury and much more
Gain valuable insights into the latest technologies in the global banking market and understand how they will impact you, your competition and your customers
Network and build relationships with the region's technological pioneers and industry leaders
---
Dedicated open forum sessions
Open Platform 101 + Fintech Q&A
Transformation in Payments
A greater connected experience in Lending
Digital leadership - the latest advances in cloud, data & AI
What are the use cases for Distributed Ledger technology?
Retail Banking: The only way is cloud
Major trends in banking treasury
Strategic Working Capital Finance
Future-proof LIBOR
Supporting client projects through Fusion Assure
Payments in the Cloud
Getting smarter about risk management
Meet subject matter experts
One-on-one expert meetings
Roundtable discussions
Strong networking opportunities
Monday, 2nd December: Partner Day
Tuesday, 3rd December: Finastra Universe
---
Become a sponsor
Link with over 300 senior decision makers from across Northern Europe and Israel
Finastra welcomes its strategic partners to benefit from this high-profile platform by unveiling your solutions and expertise.
Here's your opportunity to showcase your solutions to decision makers from across the region's banking fraternity, joining our global sales force to accelerate existing opportunities and close potential deals. Finastra Universe London promises to deliver real business value through sponsorship with measurable ROI.
Here's how we can help you as our strategic partner:
Align your brand with ours by highlighting your expertise through tailored, thought-leadership experiences
Secure face-to-face time with new and existing prospects through branded event presence and extensive networking opportunities
Network and develop new business with hard-to-reach decision makers and business leaders from the international banking sector
Promote your participation across high-level media channels across the world.
For more information on how to increase your regional penetration please contact stuart.hobbs@finastra.com
Event Location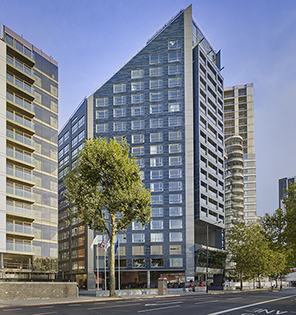 Park Plaza London Riverbank
18 Albert Embankment
London SE1 7TJ
Tel: +44 (0)333 400 6120
Map