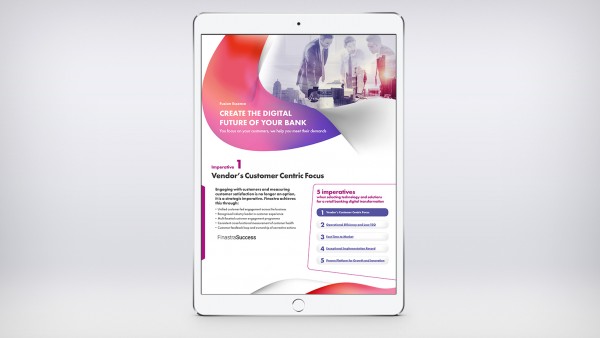 Are you looking for a retail banking solution to transform or disrupt? A solution that will provide you with a solid foundation to win business in a digitalized economy, drive growth and lead by example through innovation?
87% of banks believe their infrastructure is not adequate to support the digital banking ecosystem of the future. Of 250 banks surveyed by Forrester 76% said they were looking to acquire/replace their digital channels within the next 18 months as theirs could not cope with customer demand for a personalized, omnichannel banking experience.
So how do you go about transforming?
There are five imperatives why existing customers have chosen Finastra's retail banking core and digital platforms over other vendors for simpler, faster, smarter outside-in banking.
Get ready for a journey in the fast lane, access our infographics and discover the five imperatives:
Imperative 1 - Vendor's Customer Centric Focus
Imperative 2 - Operational Efficiency and Low TCO
Imperative 3 - Fast Time to Market
Imperative 4 - Rapid and successful implementations