Connected corporate banking
One platform, one view, total service
With Finastra's integrated corporate banking solutions, you can streamline operations and enable your corporate clients to optimize working capital. The holistic, cross-product view we provide means you can service end-to-end corporate workflows more easily, and generate increased revenues.
360-degree view
The platform provides both banks and corporates with a seamless, connected corporate banking experience and a 360-degree view of the business they are doing with one another.
The result is much-needed integration across payments, treasury, lending, trade, and supply chain finance that benefits you and your corporate customers.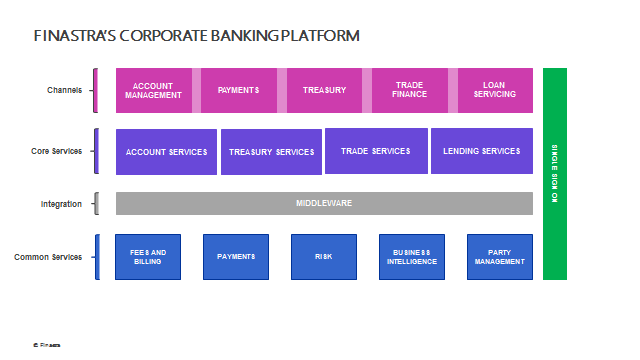 Consistent experience
The Finastra platform provides a more consistent user experience for your employees and corporate clients alike. Relationship managers can tailor products, pricing and services much more effectively and corporates can optimize their liquidity and profitability more easily.
Finastra delivers the most complete, componentized and integrated connected corporate banking platform on the market today.
---
Fusion Corporate Channels delivers next-generation portal technology to unify trade, supply chain finance, cash, lending and treasury services for corporate clients. It enables you to rationalize online services and seize new opportunities for growth in global transaction banking.
Fusion Revenue Management software helps deliver the fee income growth, reductions in revenue leakage and client-centric approaches that translate into competitive advantage.
Do you want to know more about our solutions?