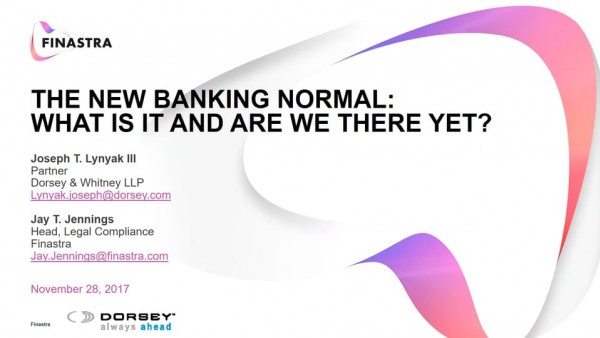 Please join us for a lively and highly informative discussion with financial service attorneys Joe Lynyak and Jay Jennings as they share their insights on the banking industry, including what is on the horizon. Joe Lynyak and Jay Jennings bring their years of experience in the financial services industry to "connect the dots" for clients in the complex and sometimes conflicting regulatory and statutory schemes confronting financial institutions. Find out what is on the horizon for the banking industry so you can prepare for some of these upcoming changes. Our experts will be discussing:
The Health of the Banking Industry
Trump Administration Regulatory Priorities
U.S. Treasury Reports
The Revised Banking Agency Regulatory Agendas
CFPB Headwinds
Outcomes and Impacts
Presenters:
Joe Lynyak is a partner in Dorsey & Whitney's Finance & Restructuring Group and long-time adviser to the financial services industry. Joe's FDIC-insured financial institution clients benefit from his experience in the special state and federal statutory and regulatory requirements—including safety and soundness issues—that apply to regulated financial intermediaries.
Jay Jennings joined Finastra in 2005. Jay manages the compliance legal team, which monitors Federal and state legislative and regulatory developments and helps drive those compliance requirements into Finastra solutions. Prior to joining Finastra, Jay was a partner with a law firm in Salem, Oregon, and represented local and national banks on lending issues