BrightTALK @ Sibos 2018: [Ask the Expert] Big Data and Analytics-as-a-Service for Relevant Trade Finance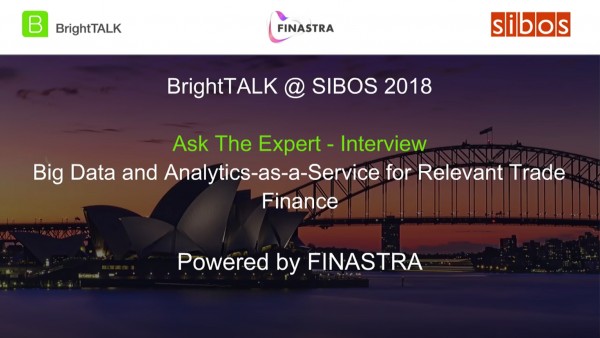 In this interview, Rebecca Harding, author of 'The Weaponization of Trade', explores how data and analytics-as-a-service can deliver the differentiator to trade banks as they defend their ground against the data-driven tech giants.
Trade finance is changing: banks need to deeply understand the risk profile of businesses they support - from trade patterns, economics and market opportunities to liquidity requirements and currency, counterparty, country, credit and compliance risk. Google, Amazon, Facebook, Apple, Microsoft, IBM and Alibaba (the GAFAMIAs) are in the business, as are shipping, freight and logistics companies.
Predictive analytics driven by trade specific big data, delivered on an open platform for innovation can provide banks with the same technical power as the giants - but delivered with augmented expertise.
Mike Walker, Global Head of Sales Enablement, Corporate Banking and Payments, Finastra
Rebecca Harding, Independent Economist