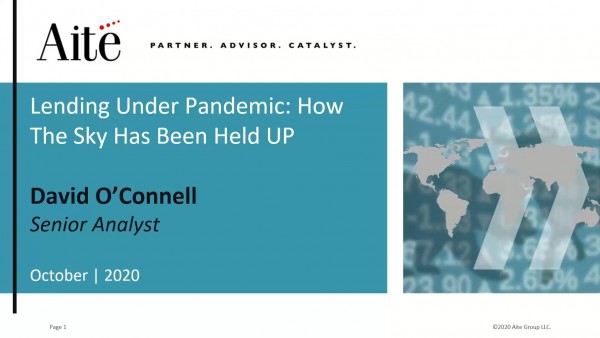 Six months into pandemic and banks and credit unions are still feeling the pain – largely in the form of small business defaults. But such a prognosticator would be wrong. Regarding business lending, financial institutions' concerns about their portfolios is moderate but not extreme. They are booking new loans, and many are accelerating digitalization wherever they can.
Join Finastra and David O'Connell, senior analyst at Aite Group as we discuss survey findings of 20 business lenders about their:
    Performance including loan portfolio resilience and analytics challenge
    Response including booking new loans, staffing and sudden remote workforce
    Transformation due to the pandemic – for the better
Speaker Panel:
David O'Connell, Senior Analyst at Aite Group
David O'Connell is a senior analyst with Aite Group's Wholesale Banking team where his primary coverage area is lending. A former commercial lender for 14 years, Mr. O'Connell brings extensive hands-on and granular knowledge of banks' challenges in building businesses that lend safely, cost-effectively and at scale.
Steve Megson, Senior Director at Finastra
Steve has been with Finastra for more than five years leading regional sales and account teams in the eastern region. He consults with community banks and credit unions to enhance their customer/member and employee experience with Finastra's lending, compliance and risk management technology solutions. Steve has been in the financial services industry since 1993 and previously worked with two regional banks for 17 years in various capacities including real estate lending.
---
You might also be interested in