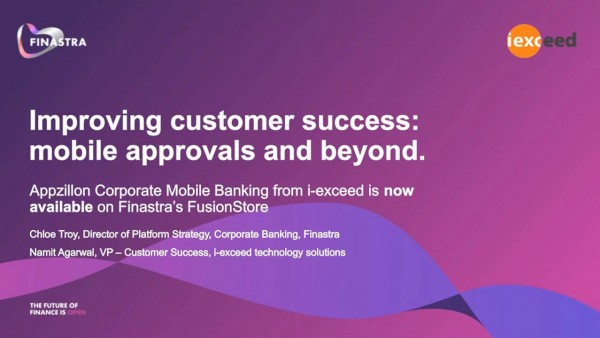 Business is going mobile – is your service ready?
Discover how Appzillion makes them nearly instant.
Corporate treasurers and finance heads make essential decisions every day. Appzillion accelerates that process by bringing together the data and tools they need in one place.
Fully integrated with Finastra's Corporate Channels, Appzillion helps your customers quickly approve transactions, manage workflows and fix bottlenecks.
Through Appzillion and Finastra's FusionStore you can now deploy mobile banking for corporate customers in 2-3 weeks rather than 12 -18 months, with minimum risk or impact on infrastructure.
Discover how to transform your customer support.
We would like to invite you to join Finastra and I-exceed to watch our free webinar and find out how banks are using mobile apps to build a best-in-class customer service. You'll learn:
How mobile banking improves business processes
The challenges with building a modern customer experience
How Appzillion provides a better service for Corporate Banking clients
Core features and capabilities
How it works with a live demo
Technical implementation
Watch now!